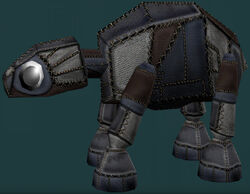 The Stuffed AT-AT Toy was a stuffed, patchwork toy version of the All Terrain Armored Transport walker used by the Galactic Empire's army.
Behind the scenes
Edit
The stuffed AT-AT toy was a reward for players of the MMORPG Star Wars Galaxies who opted-in for e-mail newsletters from Sony Online Entertainment. It was part of the Email Collection System's Third Delivery collection. Players could either use it to decorate their virtual homes or consume it to complete the collection.
Appearances
Edit
Ad blocker interference detected!
Wikia is a free-to-use site that makes money from advertising. We have a modified experience for viewers using ad blockers

Wikia is not accessible if you've made further modifications. Remove the custom ad blocker rule(s) and the page will load as expected.