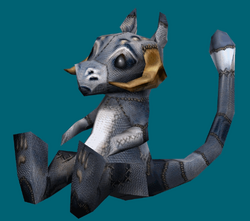 A Stuffed Tauntaun Toy was a toy version of a tauntaun.
When Jacen Solo was visiting Allana and Tenel Ka on Hapes to see if they were the sacrifice he had to make for his Sith training, he gave Allana a stuffed tauntaun. Allana became attached to the toy upon receiving it and named it "Jacen" so that when she couldn't talk to Jacen she could talk to the toy instead.
Appearances
Edit
External links
Edit
Ad blocker interference detected!
Wikia is a free-to-use site that makes money from advertising. We have a modified experience for viewers using ad blockers

Wikia is not accessible if you've made further modifications. Remove the custom ad blocker rule(s) and the page will load as expected.