Suicide
Talk

3
103,577pages on
this wiki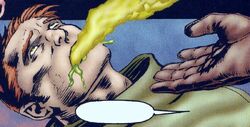 Suicide was the deliberate termination of one's life by one's own hand. Sentient beings committed suicide for a number of reasons. It could be brought about by the mental status of a person or by extraneous circumstances, such as cultural demands or military directives.
Suicide teeth or poisonous pills were used by some military personnel to commit suicide and prevent capture by the enemy.
Rather than live with a crippling injury, Tusken Raiders would commit suicide when they lost a limb, or as the result of a wound, lost use of a limb.[1]
Jagi committed suicide after deciding not to fight Canderous Ordo to the death.[2]
Xanatos, a former Padawan of Qui-Gon Jinn, committed suicide in 44 BBY, preferring to jump into a pool of acid rather than facing capture by his former master.
Hunti Pereg, a bounty hunter, let a thermal pool set off his thermal detonators, rather than facing Granta Omega.
Hevy committed suicide by detonating two tanks of Tibanna so he could destroy Rishi Station to warn Jedi General Obi-Wan Kenobi and Jedi General Anakin Skywalker about an upcoming Separatist Invasion on the planet of Kamino.
Around 21 BBY, a Death Watch terrorist, who bombed the memorial shrine in Sundari, let himself fall to his death from a high balcony rather than face capture by Obi-Wan Kenobi.[3]
An Unidentified slave girl committed suicide by jumping off a balcony ledge rather than be reprocessed after attempting to kill Miraj Scintel and being stopped by Anakin Skywalker.
Appearances
Edit
Notes and references
Edit
External links
Edit