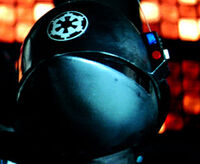 Superlaser Fire Control, or the Fire Control Room, was a chamber in Theta Sector of both Death Stars where the superlaser controls were situated.
Fire Control was responsible for coordinating the firing of all the tributary superlasers and controlling their collimation with a magnetic ring.[1]
The control rooms were destroyed along with the rest of the station during the Battle of Yavin and Battle of Endor.
Appearances
Edit
Notes and references
Edit
Ad blocker interference detected!
Wikia is a free-to-use site that makes money from advertising. We have a modified experience for viewers using ad blockers

Wikia is not accessible if you've made further modifications. Remove the custom ad blocker rule(s) and the page will load as expected.