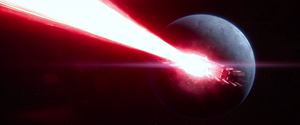 "Long ago in forgotten times, when the Sith and Jedi fought for control of the galaxy, weapons there were, of unimaginable power."
―Yoda
Superweapon (also spelled super-weapon)[1] and megaweapon[2] were terms used to describe a weapon of extremely devastating power, possibly enough to destroy a planet.[3]
Superweapons were used in ancient wars between the Jedi and the Sith. These weapons were powered by Kyber crystals. One such weapon existed on the Sith planet Malachor, the site of an ancient battle.[4]
The Subjugator-class heavy cruiser Malevolence used by the Confederacy of Independent Systems during the Clone Wars was considered to be a superweapon,[5] as was the electro-proton bomb developed by Sionver Boll. The first[3] and second Death Star built by the Galactic Empire were superweapons,[6] employing a powerful superlaser weapon that was powered by massive kyber crystals.[7] Conan Antonio Motti loved technology that created devastating superweapons.[8] Approximately thirty years after the destruction of the second Death Star, the primary base of the First Order—Starkiller Base—harbored a superweapon built into the planet's crust that was capable of destroying entire star systems, as demonstrated during the Hosnian Cataclysm. The weapon was powered by drawing on the energy of a star, which eventually led to the planet's collapse during an attack by the Resistance on Starkiller's thermal oscillator.[9][10]
Appearances
Edit
Non-canon appearances
Edit
Notes and references
Edit
↑  Queen Breha Organa in the Databank
↑  Galactic Empire in the Databank
↑ 3.0 3.1  Death Star in the Databank
↑  Clone Commander Wolffe Biography Gallery on StarWars.com (backup link on Archive.org); image #1 (of 19)
↑  Death Star II in the Databank
↑  Admiral Motti in the Databank
↑  Starkiller Base in the Databank
Ad blocker interference detected!
Wikia is a free-to-use site that makes money from advertising. We have a modified experience for viewers using ad blockers

Wikia is not accessible if you've made further modifications. Remove the custom ad blocker rule(s) and the page will load as expected.