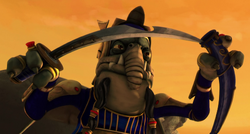 "I saw your laser sword. Only Jedi carry that kind of weapon."
Swords were long-bladed melee weapons. They had become largely ceremonial weapons in the galaxy due to the more effective blasters, though the Jedi still wielded lightsabers, which were swords with plasma blades. Other types of swords included vibroblades and the electro swords wielded by the Kage Warriors.
Appearances
Edit
Ad blocker interference detected!
Wikia is a free-to-use site that makes money from advertising. We have a modified experience for viewers using ad blockers

Wikia is not accessible if you've made further modifications. Remove the custom ad blocker rule(s) and the page will load as expected.