T'surr (species)
Talk

1
107,654pages on
this wiki
T'surr
Biological classification
Physical characteristics
Average height

Male:

Female:

Skin color

Blue

Hair color

None

Eye color

Red

Distinctions

Four eyes, small secondary arms

Sociocultural characteristics
Homeworld
Language
Members
The T'surr were a sentient species indigenous to the planet of T'surr. T'surr were rarely seen in the galaxy. The species was among the galaxy's most dangerous predators, although their relative scarcity made them less threatening. Indeed, one of the most famous T'surr was the notorious pirate and slave trader, Krayn. Although their level of technology did not meet the galactic standard, T'surr capably used technology scavenged from the ships of their victims.
Biology and appearance
Edit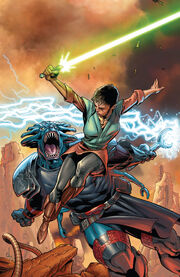 The T'surr, a sentient species indigenous to the planet of T'surr, displayed sexual dimorphism in their appearance. T'surr males stood between 2.3 and 2.6 meters tall. They were strong and solidly built, with blue skin with a sheen of marble; their blood was also blue.[1] They possessed large heads which sported numerous horns, large, sensitive ears, a mouth filled with razor sharp teeth, and four gleaming red eyes. T'surr also had four arms; the top pair were large and often muscular, while the lower pair was thin and possessed only two digits.
T'surr females were physically smaller and leaner than the males, standing about 2 meters tall. They differed from the males in several ways, lacking the small secondary arms, the mane of horns, and only had two eyes instead of four. Curiously, some males, including Krayn, also lacked the secondary arms.
Society and culture
Edit
The harsh living conditions on the T'surr homeworld forged a species of survivors who cared little for others. The wealth of a T'surr was judged by the number and quality of the slaves he owned; a T'surr without slaves was worth as much as a freighter captain without a starship. Though they were rarely seen off of their planet, T'surr were often drawn to violent professions, joining forces with powerful bands of pirates, privateers, or smugglers. No Force-user of this species had ever been recorded.
T'surr males were often violent, avaricious predators who treated weaker species as chattel. They used their brute strength and ruthless cunning to rule their T'surr and non-T'surr subordinates, eliminating potential rivals. They liked to keep trophies as reminders of their conquests, often wearing these stolen trinkets on their belts. Whereas T'surr males ruled the stars, T'surr females ruled their homes. For this reason, T'surr males would be anxious to leave their homeworld, leaving their mates to raise their children.
Their species spoke a language called T'surrese. T'surr names included Datynask, Dyrago, Feyrr, Jeneyd, Reythan, Shyntak and Treykon.[2]
Though they were long present in the galaxy, the T'surr were never represented in any galactic government. The Galactic Republic never allowed them representation in the Galactic Senate because they were widely regarded as nothing more than dangerous, marauding killers. However, some governments, like Sith Lord Daiman's Daimanate, happily used members of the species as Sith Troopers[3].
During the last years of the Republic, a notorious T'surr named Krayn worked as a pirate and slaver. His organization was infiltrated by a Jedi Knight named Siri Tachi, and during her undercover operation, Obi-Wan Kenobi and his Padawan, Anakin Skywalker, also fell into Krayn's custody. Though he was a successful criminal and a powerful fighter, Krayn was no match for Skywalker, who had once been a slave himself, and gave in to his anger when faced with Krayn's brutality. The young Jedi attacked and killed Krayn with his lightsaber.
The New Republic continued the policy of excluding the T'surr from galactic politics.
Appearances
Edit
Notes and references
Edit
↑ Ultimate Alien Anthology