T'surr (species)
Talk

1
103,465pages on
this wiki
T'surr
Homeworld
Language
Height of average adult

Male:

Female:

Skin color

Blue

Hair color

None

Eye color

Red

Distinctions

Four eyes, small secondary arms

Members
The T'surr were bipedal sapients indigenous to T'surr. It was a species rarely seen by others sentients in the Galaxy. Its most infamous representative was the notorious pirate and slave trader, Krayn, who not only plundered ships but also sold the captive crews into slavery. T'surr were among the galaxy's most dangerous predators, although their relative scarcity made them seem less threatening. Although their level of technology did not meet the galactic standard, T'surr capably used technology scavenged from the ships of their victims.
Biology and appearance
Edit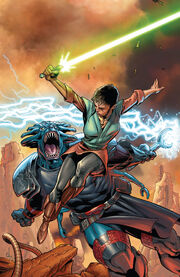 Hulking brutes, T'surr males stood between 2.3 and 2.6 meters tall. They were strong and solidly built, with blue skin with a sheen of marble, their blood was also blue in color[1]. Their huge heads sported numerous horns, large, sensitive ears, a mouth filled with razor sharp teeth, and two or four gleaming red eyes.
T'surr females were physically smaller and leaner than the males, standing about 2 meters tall. They also lacked the small secondary arms as well as the mane of horns that contributed to the males' fierce appearance and only had two eyes instead of four eyes. Curiously, some males, including Krayn, also lacked the secondary arms.
Society and culture
Edit
T'surr male were violent, avaricious predators who treated weaker species as chattel. They would use their brute strength and ruthless cunning to rule their T'surr and non-T'surr subordinates, eliminating potential rivals. They liked to keep trophies as reminders of their conquests, often wearing these stolen trinkets on their belts.
Whereas T'surr males ruled the stars, T'surr females ruled the homes. For this reason, T'surr males would be anxious to leave their homeworld, leaving their mates to raise the children.
T'surr were not represented in the Galactic Senate during time of the Old Republic or New Republic because they were widely regarded as nothing more than dangerous, marauding killers. However, some governemnts, like Lord Daiman's Daimanate, used members of the species as army troopers[2]. The harsh living conditions on the T'surr homeworld created a species of survivors who cared little for others. The wealth of a T'surr was rated by the number and quality of slaves he owned. A T'surr without slaves was worth as much as a freighter captain without a starship.
Female T'surr[1] were seldom seen, and were smaller, graceful versions of the more robust males. Female T'surr seldom left the safety of the home.
Male T'surr would often join forces with a powerful band of pirates, privateers, or smugglers. These rare T'surr didn't automatically regard all other species as their lessers, but they were still drawn to violent, predatory professions. T'surr scoundrels and soldiers were common, but no Force-user of this species has ever been recorded.
Common T'surr names[3]Edit
Datynask
Dyrago
Feyrr
Jeneyd
Reythan
Shyntak
Treykon
Appearances
Edit
Notes and references
Edit
↑ Ultimate Alien Anthology