T-21 light repeating blaster
Talk

15
103,334pages on
this wiki
T-21 light repeating blaster
Production information
Manufacturer
Model

T-21

Type
Cost

2,000[1]

Physical and technical specifications
Size

Large

Weight

4.5 kg

Capacity

30 shots[1]

Range

150 meters (optimum)
300 meters (maximum)

Usage and history
Era(s)
Affiliation
The T-21 light repeating blaster was a standard-issue, rapid-fire weapon produced by BlasTech Industries. It saw use in the Clone Wars, the Galactic Civil War and beyond.
Characteristics
Edit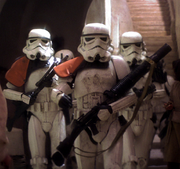 The T-21 was the heaviest standard-issue weapon that could be carried by a single soldier. Clone troopers of the Grand Army of the Republic carried T-21s into battle during the later stages of the Clone Wars, and the weapon was carried over in the transition from Galactic Republic to the Galactic Empire. Due to its portability, it was also popular with the Rebel Alliance, and later the New Republic.
Since the T-21's standard power pack only has enough energy for twenty-five shots, it was almost always paired with a continuous-feed power generator. The twenty-kilogram generator was carried as a backpack.
Behind the scenes
Edit
A First World War-era Lewis machine gun provided the basis for the T-21. The Lewis gun was the standard light machine gun of British and Commonwealth forces during World War I. It was fed by a drum magazine that was placed horizontally on top of the gun's receiver. To produce the T-21 prop, the drum magazine was removed and minor cosmetic alterations were made.
The EMP Launchers used by Jet Troopers in Star Wars: Battlefront II resembled this weapon.
Appearances
Edit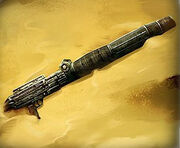 Notes and references
Edit