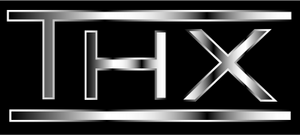 THX is a certification that is to ensure a standard of high-fidelity sound reproduction systems for theatrical movie theaters, screening rooms, home theaters, computer speakers, gaming consoles, and car audio systems. THX was developed by George Lucas' company Lucasfilm in 1983 to ensure that the soundtrack for the third Star Wars film, Return of the Jedi, would be accurately reproduced in the best venues.
In 2002, the THX division of Lucasfilm was spun off as a separate company - THX, Ltd. The same year, THX was owned by sound card manufacturer Creative Technology Limited, which held a 60% share of the company. The company has had a long history with Creative, which was responsible for the creation of the first THX-certified audio card for computers, the Sound Blaster Audigy 2.
In 2016, THX was acquired by videogame hardware company Razer Inc., with Razer owning all of THX and its intellectual property
The name THX is a reference to George Lucas' first film, THX 1138.
External links
Edit
THX on Wikipedia
Ad blocker interference detected!
Wikia is a free-to-use site that makes money from advertising. We have a modified experience for viewers using ad blockers

Wikia is not accessible if you've made further modifications. Remove the custom ad blocker rule(s) and the page will load as expected.