"TK-421, why aren't you at your post? TK-421, do you copy?"
―Imperial officer Treidum
TK-421 was the designation of a stormtrooper who was stationed on the Death Star.
Biography
Edit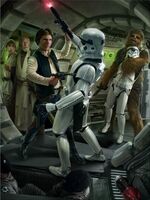 When the Death Star captured the Millennium Falcon, TK-421 was ordered to guard the ship while an Imperial scanning crew determined if anyone was aboard. Responding to a call for help from inside the ship, TK-421 and another trooper were ambushed by Han Solo. Solo and Luke Skywalker then used the two troopers' armor to infiltrate the Death Star. Not too long afterward, the Battle of Yavin commenced, which ended with the Alliance destroying the Death Star.[1]
Behind the scenes
Edit
Appearances
Edit
Notes and references
Edit