"TEE CHUTA HHAT YUDD!"
―Jabba's TT-8L/Y7
The TT-8L/Y7 gatekeeper droid, also known simply as the TT-8L and nicknamed the "tattletale droid," was a model of security droid manufactured by Serv-O-Droid, Inc..
Characteristics
Edit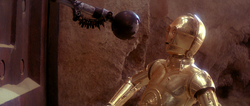 A model of security droid[2] consisting of an extending[3] eyestalk[1] with an orange photoreceptor,[3] the TT-8L/Y7 gatekeeper droid[7] was installed in doors and entryways to screen visitors[1] and scan for weapons. Considered obnoxious and invasive, TT-8L/Y7s enjoyed their position of control[2] and were nicknamed "tattletale droids" due to their demeanor in the pursuit of fulfilling their programming.[1] They spoke in a barking metallic voice using an attached speaker and had a grating laugh.[4] TT-8L/Y7s also functioned as holocams.[8]
Manufactured by Serv-O-Droid, Inc., the TT-8L/Y7 was in use across the galaxy for years.[1] During the Clone Wars, one was installed outside the main entrance of Rishi Station, a Grand Army of the Republic listening post,[5] and the Trandoshan scavenger Gha Nachkt had a pair of these droids installed in the airlock of his freighter, the Vulture's Claw.[9] General Grievous, the leader of the Separatist Droid Army, had[6] multiple[8] TT-8L/Y7s in his fortress on the third moon of Vassek.[6] The Hutt crime lord Jabba Desilijic Tiure had one fitted into the front gate of his palace on Tatooine,[3] which was considered to be one of the most infamous and annoying examples ever in use.[1]
Appearances
Edit
Non-canon appearances
Edit
Notes and references
Edit
↑ 8.0 8.1  Lair of Grievous Trivia Gallery on StarWars.com (backup link) (Slide 5)
Ad blocker interference detected!
Wikia is a free-to-use site that makes money from advertising. We have a modified experience for viewers using ad blockers

Wikia is not accessible if you've made further modifications. Remove the custom ad blocker rule(s) and the page will load as expected.