Talk:Chalmun's Spaceport Cantina
107,655pages on
this wiki
Reorganization
Edit
I propose that we, the Wookieepedians, find a way to organize all of the information in the section entitled "Other individuals in Cantina 0 BBY" -Anonymous —Unsigned comment by 66.177.22.103 (talk • contribs).
I was looking through the Cantina patrons, looking for a way to categorize them. I was thinking Episode IV, Holiday Special, and CCG...but then ran into a problem, cause a lot of characters have the CCG listed as a source, but I don't know which characters are CCG concieved versus featured.--Kjaydeck3 04:31, 8 October 2006 (UTC)
Article title
Edit
Would not "Chalmun's Cantina" be a more appropriate title, with "Mos Eisley Cantina" as a redirect? I have a feeling that there's more than one such establishment in Mos Eisley. -- Aidje 18:02, 13 Apr 2005 (EDT)
Hmm. You might be right. Do what you need to, Aidje. -- Riffsyphon1024 18:08, 13 Apr 2005 (EDT)

I went ahead and moved it (as I'm sure you can tell), but when I went looking to see what the bartender's name was, I found that "Mos Eisley Cantina" may indeed be more correct. This [1] states that the cantina was one of the first buildings in Mos Eisley and has changed hands many times. That would mean that "Chalmun's Cantina" isn't always correct, since he hasn't always owned it—of course, we already knew that he hadn't always owned it. I'm not sure what I think now. Second opinion? -- Aidje 10:29, 14 Apr 2005 (EDT)

The most likely search option for it would be "Mos Eisley Cantina". I think because we have no knowledge of other cantinas that it is the main one, and there would be no confusion. The introduction of Chalmun is relatively new and many people would not know who he is. So in that case, Chalmun's Cantina should redirect to Mos Eisley Cantina, and Chalmun's Cantina should remain as bloded in the article as another name. -- Riffsyphon1024 15:09, 14 Apr 2005 (EDT)

It's been a year...and it seems like despite "Mos Eisley Cantina" being the most common search term, the trend towards proper names for articles indicates it should be a redirect. --SparqMan 23:49, 12 April 2006 (UTC)

I agree. -- Ozzel 23:54, 12 April 2006 (UTC)

So...can we move it? -- Ozzel 23:31, 30 April 2006 (UTC)
I plead ignorance, where is it called "Mos Eisley Cantina" in-universe? --SparqMan 08:37, 10 May 2006 (UTC)

It is Chalmun's Cantina. I say it should be moved. --DannyBoy7783 01:13, 11 May 2006 (UTC)

Underworld Appendix: Swoops, Spice, and Wretched Rogues calls it Chalmun's Cantina. Can we move it now? Pretty pretty please? -- Ozzel 01:47, 30 August 2006 (UTC)
Both Wikipedia and the Databank refer to it as "Mos Eisley Cantina," with Wikipedia adding that it is officially called "The Emerald Cafe." The Databank makes no mention of Chalmun whatsoever. Chalmun's Cantina redirects to "Mos Eisley Cantina" on Wikipedia. Just food for thought. More to confuse the situation more than to solve anything. Ewok Jedi 16:08, 2 October 2006 (UTC)

I was wondering if anyone knows when it was first refered to as Chalmun's Cantina. I've honestly never heard it called that, though I did know about the character.--Kjaydeck3 01:59, 8 October 2006 (UTC)
Sesame Street
Edit
I have heard in more than one source, that Sesame Street's Big Bird makes a cameo appearance. When I heard it, I thought it logical since Henson and Lucas were friends (and correct me if wrong, but I think that Henson participated in the alien makeup). Although I have seen the movie countless times, I never saw it, so I guess it was an urban legend. Anyone knows more about this? 62.74.4.70 18:29, 13 Jul 2005 (UTC)
I highly doubt Sesame Street is hidden in Star Wars. -- Riffsyphon1024 18:34, 13 Jul 2005 (UTC)

I believe this rumor refers to the silhouette of bird's legs that cross the screen at one point when Ben and Luke are walking in the streets of Mos Eisley; they were later identified as belonging to the Quor'sav smuggler Kal'falnl C'ndros. However, it's pretty obvious (to me, at least) that the legs aren't the same as the ones on everyone's favorite Muppet. jSarek 21:00, 14 Jul 2005 (UTC)
Emerald Cafe???
Edit
Where the hell did that come from? --Azizlight 04:56, 10 June 2006 (UTC)
Holiday Special
Edit
Why not separate the entries from the Holiday Special and the actual Movie. Ackmena's Cantina and the one shown in the movie are completely different are they not? —Unsigned comment by 205.235.220.10 (talk • contribs).
No. The Databank confirms that they are the same one. Adamwankenobi 15:03, 23 August 2006 (UTC)
Does that section mean the length of time it has existed or something else, because "constructed by early pioneers" seems to imply that it existed in the Old Republic era. It probably predates the KotoR games.--Lord OblivionSith holocron

22:08, 4 October 2006 (UTC)
IG-88 heads?
Edit
Anyone know the story behind the IG-88 heads at the bar?Tocneppil 22:02, 5 October 2006 (UTC)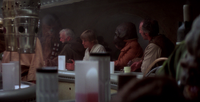 According to Star Wars: Complete Locations, they're "themed bar spigots modeled after head of infamous IG-88 assassin droid". --

I need a name

(

Complain here

) 22:05, 5 October 2006 (UTC)

And OOU, the truth is that IG-88 was made from that piece of the cantina set. -- Ozzel 22:10, 5 October 2006 (UTC)
Insider 91
Edit
Could somebody please mention the new stuff that was added in the Insider 91? --Sompeetalay 12:05, 12 December 2006 (UTC)
Is that Bossk behind Greedo? Its at 45:53 on the New Hope DVD. I just see his clothes, but it might be just an extra prop or something.--Darth Tyler(talk) 22:01, 20 December 2006 (UTC)
Normally Bossk doesn't appear in ANH, but it does indeed look like his outfit. As does the spacer's outfit worn by Bo Shek. So I guess Bossk was very familiar with the latest fashion of spacer's wear. --Sompeetalay 19:20, 5 January 2007 (UTC)
The Page Now
Edit
Well It's been ages since I've logged on to Wookieepedia but I must say, I'm very impressed. Since nominating this page for improvement, a lot has changed for the better. Well done people! SecondSight 11:25, 21 January 2007 (UTC)
Cantina Dude?
Edit
Who/where is he? I thought he had been identified as Danz Borin, but that's incorrect. Pretty sure this is who's being talked about under 'Bossk' here. It's the spacer wearing what was used as Bossk's outfit, and a full head cover helmet. Inigo Montoya 07:33, 14 February 2007 (UTC)
Ownership in Heir to the Empire?
Edit
A quote from Heir to the Empire:
"Jabba the Hutt's old cantina hadn't changed since the day Han first met Luke Skywalker and Obi-Wan Kenobi."
I know the Chalmun idea probably wasn't around when this was written, but has this discrepancy ever been explained away in the EU? Barbara Fett 19:18, 26 February 2007 (UTC)
Is it just me or is something really wrong with this article?Jacen 22:17, 3 April 2007 (UTC)
List of unidentified Patrons from ANH
Edit
1. Gold-skinned alien (sit between Brainiac and Bom Vimdin 2. Spacer #2 (with outfit later worn by Bossk, hanging with Danz Borin) 3. Spacer #3 (same group) 4. Spacer #3 (same group, striped helmet) 5. Corellian Pirate (sits with Debnoli) 6. Buearacrat #1 7. Buearacrat #2 8. Assorted Humans, farmers, locals, etc.
Just a note on these names, they're speculative roles for unidentified characters based on pre-production names. There's no way of knowing if a character originally known on set as a "beurecrat" will remain one once his EU biography is written. 24.17.73.18 08:53, 18 December 2007 (UTC)
At risk concerns
Edit
Chalmun's Cantina has been tagged with the Gacleanup template for the following reason(s):
No notes and references section.
The community is invited and encouraged to help improve this article to meet current GA standards. --School of Thrawn 101 07:09, 9 August 2007 (UTC)
N&R added. I've sourced some of the stuff here. Unit 8311 18:39, 9 August 2007 (UTC)
Gasgano In The Cantina
Edit
I have also placed this comment in the discussions page for Gasgano, but no one seems to go there so I thought it would be best to put the comment here too.
The page in the complete locations guide book that is about Chalmun's Cantina/Mos Eisley Cantina is shown to have a multi-armed alien pick-pocket, said to have once been a famous podracer, who often hangs around the cantina. This pictured character does look like a Xexto, but is it Gasgano? I think it is because Gasgano is the only offcial Xexto podracer, but what do you think?--Maceo 13:46, 8 January 2008 (UTC)
Sounds good to me, just one of those fun fan speculative things. 24.17.73.18 07:42, 13 March 2008 (UTC)
No, it isn't 'fan fan speculative things'! Did you not read that it's in the complete locations book, surely that must be considered canon? Infact, I think that is enough reason for me to add Gasgano to the "Individuals present on the day of Luke Skywalker's meeting with Han Solo (0 BBY)" list. If anyone dissagrees, please tell me (if you could, tell me on my talk page) --Maceo 15:08, 14 December 2008 (UTC)
Well it's a good thing I added Gasgano to the list of "Individuals present on the day of Luke Skaywalker's meeting with Han Solo", because now the list is even (only because one of the others take up two lines). Oh boy, I'm so proud of this edit! --Maceo 17:47, 25 December 2008 (UTC)
Last of the Jedi
Edit
I vaguely recall Obi-Wan going to a cantina in one of the first Last of the Jedi books, I think it was this one. It seems highly likely that it would be. Does anyone know if it is, and if so, is there any information from there that could be put in this article? Or at least put it as a source? Anyone smarter than me know? =) Aqua Unasi 23:28, 9 March 2008 (UTC)
What needs to be done?
Edit
What do I need to do to fix this page? There are three banners on the top, and I'd like to remove them, so I'd like more detailed explanation of what to do. I fixed the list of people present during the hiring of Han Solo, so the columns are all even now. What else can be done?--JuiceStain Rock on!
19:24, 7 April 2008 (UTC)
I have a good suggestion for those interisted: Upload pics of every individual seen in the cantina, especially if they don't have a name and their own article. All the 'Red Links'. 76.22.3.36 07:48, 11 April 2008 (UTC)
That IS a really good idea, but we'd probably have to create a seperate gallery page to avoid cluttering the page. I'd so be into doing that...if I had the means to get said pictures. If I do get teh ability, and it hasn't been done yet, I'll go for it.--

JuiceStain

Rock on! 19:57, 11 April 2008 (UTC)

I'll put up a working article for everyone, and with others identify who's screen grab goes where.
http://index.echostation.com/trilogy/cantina1.jpg (Gold skinned man is found just before Hem Dazon's head pops up. He is incorrectly identified as Trinto in this pic). http://index.echostation.com/trilogy/cantina8.jpg (Spacers 1-3, Danz Borin and BoShek not included, appear in this shot, all on left side. Most important is guy in Bossk-style suit). http://index.echostation.com/trilogy/cantina31.jpg (Man holding cup at table knocked over by pushed Luke). http://index.echostation.com/trilogy/cantina6.jpg (Lutrillian #1. The 2nd Lutrillian appears on other side of bar room). http://index.echostation.com/trilogy/cantina12.jpg (Lutrillian #2. Neither is necessarily Solomohal. Pics of the unidentified Jawas, not including Het Nkik, may also be wanted). http://index.echostation.com/trilogy/cantina28.jpg (An unidentified Gotal, or just a moving Feltipern?) http://index.echostation.com/trilogy/aftershot4.jpg (Top-knot Nimbanel. Not the only place found, a better shot may be picked up from other side of cantina, or even outside, on heroes' walk to DB 94). 76.22.3.36 21:31, 11 April 2008 (UTC)
Pics Request for new patron articles
Edit
If all the random Marvel characters can get pics, I think all the cantina patrons should. 76.22.3.36 06:31, 14 April 2008 (UTC)
Chalmun not present at the 'meeting'
Edit
I'm not sure Chalmun was in the cantina at the time Han Solo and Chewbacca met Luke Skywalker and Obi-wan. At the moment Evazan is killed in Be Still My Heart: The Bartender's Tale, it says Too bad Chalmun wasn't around. His imposing figure usually discouraged these kind of shenanigans. Mister Magee 00:57, 4 June 2008 (UTC)
Star Wars: Complete Locations shows Chalmun talking with Ackmena in his office. I assume the line is from Wuher's POV. He may have just meant it was too bad Chalmun wasn't present in the bar room, or wasn't aware Chalmun was in his office. Whichever, CL came after TFTMEC, so it seems to be a retcon. 63.64.127.64 20:42, 17 November 2008 (UTC)
Individuals during SWG
Edit
Can we have a list of individuals who were present during in Star Wars Galaxies please? --Vitas 10:42, October 8, 2009 (UTC)
Info on Bossk's showdown with Fett?
Edit
In the Bounty Hunter wars miniseries, I'm pretty sure Bossk and Fett had a "conversation" at Chalmun's. Should that be added?—B-Boba Fett! Make the check out to "Boba Fett"
16:07, November 26, 2009 (UTC)
The Inside the Worlds of Star Wars Trilogy established the full name as Chalmun's Spaceport Cantina. This page should be moved to that title. LOST-Malachi 19:31, April 29, 2010 (UTC)
I suggest we remove this image. Inside the Worlds of Star Wars Trilogy has provided a different map of the cantina, and as it is a newer source than the Technical Journal I suggest we remove that image from the page. Grand Moff Elvin 11:28, August 17, 2010 (UTC)
Casablanca
Edit
Why was the Casablanca reference deleted it had a lot of comparisons. George saw it as one of many of his influences.