Ad blocker interference detected!
Wikia is a free-to-use site that makes money from advertising. We have a modified experience for viewers using ad blockers

Wikia is not accessible if you've made further modifications. Remove the custom ad blocker rule(s) and the page will load as expected.
Couldn't he be considered the last victim of the Jedi Pruge, as he died in 1 BBY? -- SFH 15:51, 2 Dec 2005 (UTC)
I don't know where people are getting this "the Purge ended with the death of Ob-Wan" thing anyway. I think the Purge ended with the death of Vader and Palpatine since Luke was also a target. - TopAce 16:12, 2 Dec 2005 (UTC)
"Echuu survived in hiding through the Galactic Empire's Great Jedi Purge. He finally re-emerged when Princess Leia Organa crash-landed on the world of Krant, shortly after the Battle of Yavin"
Leia says shortly before meeting him, that she wants to return to alderaan as soon the whole thing is over... so i doubt the 'after yavin' part..
I think it should be sorted out. It seems HIGHLY unlikely that he died in 1 ABBY, if Alderaan still existed at the time of his death...
Image Accuracy
Edit
The image presented to be Echuu Shen-Jon, though I can't be sure, does not seem correct. It appears to be more of a modern representation or even farce. Is this vandalism or canon? Mordecai 22:10, 28 April 2006 (UTC)
What's the quote from? If it's from the game I can make it an audio clip. But I guess you already have two of those. We can actually hear the voices of quite a few characters from GB. -Aiddat 16:39, 17 July 2006 (UTC)
Possible AOTC appearance
Edit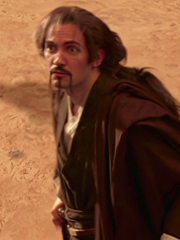 Could this be Echuu? We know he was at the arena battle. .... 22:16, 17 October 2006 (PDT)
A good retcon for Chee to think about MoffRebus 08:47, 18 October 2006 (UTC)
What the??
Edit
He died in 1 ABY?? So what's this "he's our only hope" thing Ben says to Yoda?? Were there other Jedi alive during the OT or not??? Maybe Ben and Yoda didn't know, but I think it spoils everything. Klow 16:20, 8 May 2007 (UTC)
Profile picture
Edit
That just looks like some dude in a winter jacket or something. Not even close to Jedi robes. What's going on? QHRvRICdalurIA (talk) 21:09, November 2, 2016 (UTC)