Talk:Form I: Shii-Cho
107,331pages on
this wiki
The New Jedi Order article, specifically the section on lightsaber combat (see: New_Jedi_Order#Lightsaber_Combat) Describes some of the principals of Shii-Cho, and mentions "Three Rings of Defense". Shouldn't the information found in that article be incorperated into the Shii-Cho article? I don't see any mention, or description of the "Three Rings of Defense" anywere in the Shii-Cho article, but they are described in the New Jedi Order article.
Umm... I could not find any canonical source which directly state that "The Three Rings of Defense" was an element comes from the Shii-Cho of the Seven Forms of the Old Jedi Order (Although the 2 concepts, on some level, do look similar). My opinion is that the 3 rings will only be added into Shii-Cho article until a canonical source surface. Darth Kevinmhk 10:37, 17 April 2006 (UTC)

Add I changed the NJO Lightsaber Combat section as "possible" elements of Shii-Cho, unless a canonical source can be provided. Darth Kevinmhk 10:51, 17 April 2006 (UTC)
I remember Irvin Kershner saying something on the Trilogy special features DVD about how he directed the cast to use both hands while wielding their light sabers, perhaps to mimic a Samurai form of sword play. Does Shii-Cho include this double-handed specification? Could details from this interview with Mr. Kershner be used in a "Behind the Scenes" section for this or another article?
Actually the double-hand trait came from the direction of Peter Daimond, who was the swordmaster and fight coreographer for the original trilogy. He created the "double-handed" sword style to mimic elements of both eastern and western sword arts. Shii-Cho does include double-handed elements obviously, since it is the forerunner to all the other Forms.
However, during the creation of the original trilogy Shii-Cho had not yet been created and the "Doube-handed" Form was actually what would later be called Djem So. --The truth hurts... 22:32, 9 April 2008 (UTC)
Makashi was canonically stated as favoring single-handed grip, while Ataru was implied as favoring two-handed grip. Form V Shien's open stance was a single-handed grip. No grip info was given for Shii-Cho. Darth Kevinmhk 04:06, 10 September 2006 (UTC)
Shii-Cho in Japanese means mayor. This could be totally irrelevent, but who knows? (I don't)
Well, Ataru is also Japanese but its meaning is relevant. In the case of Shii-Cho, mayor is not as likely. - TopAce 20:51, 18 November 2006 (UTC)
In the caption to the image of Sidious vs. Kit Fisto, it states that Sidious was using Lus-ma (as opposed to the original caption of either Juyo or Ataru), but can we state with any credibility that Sidious was using the technique? Lus-ma was mentioned as an adapted form taught by Grievous to his MagnaGuards, but I don't know if we can apply its use to Sidious in the face of the total lack of supporting documentation. Jwebb13HoloNet

02:48, 4 December 2006 (UTC)
Lus-ma is known as a style unknown to the Jedi Order, leaving the only other possible group to create it to be the Sith. Furthermore, you notice that Lus-ma was taught by Grevious to his Magna-guards but you forget who taught Grevious: Dooku.
Dooku himself learned the mysterious Form from Darth Sidious who himself was the Dark Lord of the Sith. Therefore, Lus-ma, through use of logical deduction is a Sith Form, which he used against the Jedi, since the Dark Lord of the Sith would not use a Jedi Form.
You follow? --The truth hurts... 22:38, 9 April 2008 (UTC)
That's original research. Lus-ma is only mentioned in Labyrinth of Evil, and it doesn't say Sidious was using Lus-ma. It doesn't say the Jedi didn't know it. It doesn't really say what it was besides used against Soresu. I'm afraid you might be misinformed, especially since Anakin Skywalker, a Dark Lord of the Sith, used Form V: Shien / Djem So, Bane used Form V also, and Zannah used Form III: Soresu, so they're not just "Jedi" forms. Atarumaster88 (

Talk page

) 04:05, 10 April 2008 (UTC)
Yes, I read Labryinth of Evil, and I know it didn't say Sidious was using Lus-Ma - it didn't say he was using anything.
Also, Anakin Skywalker used a Jedi Form because he had been a Jedi unlike Sidious who was raised a Sith. And naturally, Anakin's Dark Lord status is of course, ambigious for several good reasons, though that is a different story. And Darth Bane and Zannah were first sighted using their Forms in two horribly written books with hardly any plausibility to them. Lus-Ma is a largely unknown Form, being that is never spoken of as a Jedi Form per se. Sidious was, of course, Dooku's Master and If Dooku could have learned that very mysterious Form from anyone, it would definantly have been from him. Anyway, If you do the math then it's kind of obvious. --The truth hurts... 19:45, 13 April 2008 (UTC)
Okay, that's quite enough. If you're closeminded enough to reject multiple sources that have stated Anakin was a Dark Lord and two canonical novels and then expect us to follow your totally unofficial theory, then I can't help you. Please cease posting here, as this page does not exist to advertise fan theories. Atarumaster88 (

Talk page

) 23:03, 13 April 2008 (UTC)
I highly doubt someone with the highest rank in the entire Sith Order could be beaten by a fairly prodigal but arguably unremarkable Jedi like Obi-Wan.
True Dark Lords are some of the most powerful beings in the Star Wars Universe, they don't get defeated by mere Padawans or standared Jedi Masters. That, and if Anakin had been a real Dark Lord, he would have had almost no reason to kill Palpatine to usurp the mantle of the Sith - since he would already possess it. If Darth Maul had been a true Dark Lord, Obi-Wan would have had as much of a chance of suprising him in the reactor core as he would had suprising Palpatine in the same scenario. If Anakin had truly been a Dark Lord, he would have had enough power to beat Obi-Wan in that telekentic contest of power, and he either would have cut Obi-Wan to shreds, or had him do the backstroke in lava. Since he was only a Sith Lord which is on par with a Jedi Master, he lost. Dark Lords are on par with Grandmasters which are considerably more powerful than any Jedi Master, such as Obi-Wan. Like I said, this all adds up - you do the math. --69.51.150.90 19:43, 15 April 2008 (UTC)
Second thought, after thinking about it, I'll re-cap and elaborate so you can understand:
1. Vader dosen't need to kill Palpatine to grab the mantle of the Sith because he already has it - the mantle of Dark Lord. (Part of the idiocy of The Rule of Two) I used to think it meant "Two Sith at a time". When I found out it aparently meant "Two Dark Lords at a time" I was like WTF?? That's like having only two Jedi and both of them are Grandmasters - makes no sense.
2. History has shown us the RotS Palpatine was only average in terms of power as a Sith, and that most were actually alot more powerful than he was way back. Darth Maul comparatively has been shown to have Force power considerably below that of almost every past Dark Lord (real ones) and like I said before, they don't get beaten by Padawans.
Anyway, I'll shut up now, you probally get the idea. --69.51.150.90 20:00, 15 April 2008 (UTC)
The next person who posts on this topic or makes a similar one on this page will be banned for a week for violating our disruption policy. I've been patient so far, but Wookieepedia talk pages are not the place to speculate on fan theories. Take it elsewhere, to the appropriate venue and to where people care please. Atarumaster88 (

Talk page

) 20:14, 15 April 2008 (UTC)
It's as much a fan theory as the sky is green, but your right about the purpose of this page - I shall take it elsewhere. --69.51.150.90 20:20, 15 April 2008 (UTC)

And by elsewhere, we mean off Wookieepedia.

Chack Jadson

(Talk)

20:28, 15 April 2008 (UTC)
Notable Practitioners
Edit
Why is Master Kenobi listed? His preferred forms were Soresu and Sokan. If it is in reference to his style in The Phantom Menace, he was a Padawan at the time.137.99.184.148 19:15, 28 January 2007 (UTC) He used elements of Shii-Cho in his swordplay, despite his being "The Soresu Master".
I'm going to add "familiar with the key principles" to Obi-Wan's picture in the gallery of practitioners. He was, after all, a master of Soresu. Furthermore, in The Cestus Deception, Obi-Wan thinks of Form I as requiring too much emotional heat for his taste. ~~grobiano~~
All Jedi are practitioners of Shii-Cho. --The truth hurts... 22:34, 9 April 2008 (UTC)

True, but not all jedi are Notable practitioners, and thats the title, so unless we want to put on every single jedi who is familiar with the key principles I think we should take Obi-Wan off. - Kingpin13Cantina Battle Ground 16:00, 30 April 2008 (UTC)
New Article
Edit
OK I just added a new moves and maneuvers article if you have questions about canociality ask me on this discussion don't delete it like last time. Derek Yoda's friend 04:32, 11 March 2007 (UTC)
Thank you whoever added that gallery of images for the stances although some of the images are incorrect (Showing another stance) so they need to be swaped with the correct image. Derek Yoda's friend 19:01, 16 March 2007 (UTC)
Known maneuvers
Edit
The "Known maneuvers" section is written in an OOU perspective. Is that the way it's supposed to be? - TopAce 21:41, 11 March 2007 (UTC)
By all means it is not supposed to be that way I put it there, but pretty much everything I write needs to be Wookieefied or checked for grammar so please if you have time fix that do so, thank you for noticing. Derek Yoda's friend 20:10, 12 March 2007 (UTC)
Okay, enough with this shit, already. There is no source whatsoever fo the "Known stances" section, and the "Known maneuvers" should be added to the Lightsaber combat article, not this one. I'm not very good at editing, but if no one else changes this, I'm going to try eitherway and the result will probably not look good. So please correct these inaccuracies! ~~grobiano~~
It is obvious to me that the information on attack and parry, as well as the "Known Maneuvers" section (canon?) should be moved to the Lightsaber Combat article. This is because those aspects are in common for all seven of the lightsaber forms, and not specific to Form I. ~~grobiano~~
The freaking body zones
Edit
Hey! Whoever is reverting the body zone numbers - stop it! According to AotC: VD, zone 2 means RIGHT side and arm, and number 3 means LEFT side and arm. I'm going to correct it... again. ~~grobiano~~
Question
Edit
Who created this article? After that, did you, or that person, create all the lightsaber combat articles? Darth Craetor 04:49, 30 March 2008 (UTC)
Youtube canon
Edit
on youtube there are videos of how to hold or use a lightsaber relating to a form. Has any one else seen this and is it at all canical? User:DarTah_RavinRavin%27%|DarTah Ravin']]
I know what parry 4 looks like, but what about attack 4? —Unsigned comment by Blackhole252 (talk • contribs).
Can we please restore the Philosophy sections on the pages pertaining to each of the 7 styles of the Old Republic-era Jedi? A few months ago when I logged on each site had a description of the state of mind that was the goal of practitioners of each particular form. What happened to these sections? I think the Jedi themselves would be very disappointed at us for focusing merely on the physical aspects.
Star Wars d20
Edit
In the Star Wars D20 Hero's Guide, there are specific benefits for mastery of each of the seven forms that sometimes add more suggestions as to the nature of the form. For instance, Form I mastery gives a player a +4 bonus on all disarm rolls. In other words, it makes the practitioner harder to disarm and also makes it easier to disarm another opponent when using a lightsaber. Do you think these instances are worth mentioning in the articles?
--Tubbyman13 04:13, 11 December 2008 (UTC)
appearances
Edit
Since there is a picture of Luke Skywalker from Episode IV, wouldn't Episode IV be an appearance of form I?

Nickowar 18:49, April 1, 2010 (UTC)
Opening Stance
Edit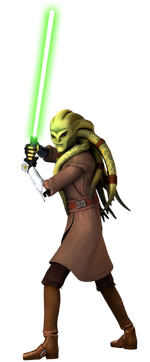 Is they room in the article for this, all the other forms have the opening stance in them except Djem So, and Juyo / Vaapad. {{SUBST:User:Kingofall42/SigReal|{{SUBST:{Predated }}}}. 18:50, May 2, 2011 (UTC)