Talk:Kento Marek
103,576pages on
this wiki
Why is their a template for helping with sourcing? Everything has a source in the article. Drewton 25px 20:31, 11 April 2008 (UTC)
It has refs, but not proper sources. Saying "The equipable Secret Apprentice's Father's Robes are called 'Kento's Robes in the game" is not a source because the game has not yet been released; obviously, it's from some online preview or somesuch, and needs to be linked to. "The Force Unleashed PS3 Graphic Novel Preview" also needs to be linked to the TFN thread. -- AdmirableAckbar (Talk) 21:21, 11 April 2008 (UTC)

I've added links for both.

Drewton

25px 22:13, 11 April 2008 (UTC)
We probably don't have enough room to add this right now, and it's not right for the infobox since you can't see his face, but here's the highest-quality picture of him so far.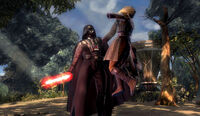 Drewton
25px
14:02, 13 April 2008 (UTC)
The images are from the PS2 version for this page, which is really bad resolution. If we can get a PS3 image, it would look amazing and realistic.
Fallen Kento
Edit
Doesn't it say in Vader's Secret Apprentice Evolution's pack that the Secret Apprentice is the son of a fallen jedi? BTAL 22:05, 1 May 2008 (UTC)
I could have sworn that Darth Vader didn't choke Kento to death, but instead slashed him. (It was shown in the video)
What you saw was vader killing his stormtroopers to protect young Galen. The video wasn't the whole scene.Hope that clears things up! Dr.Kermit 04:14, 23 August 2008 (UTC)
sub-par graphics
Edit
Is it just me or are all of Kento's photos blurry? I think that Lucasarts did not put the time into creating a realistic faceUser:Revanthereformer1138
The infobox image is a Wii screenshot. Not really LucaArts' fault. Drewton (Drewton's Holocron) 02:09, 4 September 2008 (UTC)
Strangely, in the PSP version of the game, his name is Kento Nion. In the PS2 version, he remains nameless, known only as "Rogue Jedi". Can the book be considered better canon than the game itself?--Seth danny 21:29, 14 September 2008 (UTC)
It's Kento Nion in the Wii version too. 68.7.201.42 04:04, 18 September 2008 (UTC)
Yeah, I think books are considered higher canon than games. --The Wolfe22 21:59, 25 September 2008 (UTC)

I think games and books are C-level canon, so less than movies G-level. Don't know the rest but I would say slap a conflicting tag on it and go.203.123.89.166 22:05, 25 September 2008 (UTC)
the 360 version just calls him Kento. And how is the novel higher in canon? User talk: 1705jallen

You can check how Canonicity is rated concerning games and books, and when conflicts arise, in the Canon topic. Gethralkin 15:35, 4 April 2009 (UTC)
Yeah, but the comic and making of follow the game, as did george lucas, and the comic, game and making of book are all by the same person, with the complete approval of George Lucas. Unless the entire continuity of the novel has Lucas's approval too, I think we should only go on what ALL sources agree on User: 1705jallen
A "yabut" is not an agreement, but an argument. A dismissal of a statement previously made. Which, from 1705jallen's response, means that there is no consideration in his statement for the priorities set by this wiki concerning canonical relevance. Kento Marek is the characters name. The Force Unleashed has other errors that were released in the game that are superceded by other relevant sources. That is why we do NOT use all sources for the article, as they would be conflicting. Gethralkin 22:28, 16 April 2009 (UTC)

Considering all the TFU adaptions are C-canon, none of them take precedence over the other. --

I need a name

(

Complain here

) 22:52, 16 April 2009 (UTC)
I think you misunderstand me. I don't mean we use ALL sources. I  mean that since The Force Unleashed is so tangled with canon, with Lucas involved and databank entries and all, we can only really go on sources that nothing disputes. but yeah I give you that there are no disputes in Kento's name so this is fine. User:1705jallen

The Wii version also has "Nion"--LandonJaeger 23:06, 21 June 2009 (UTC)
Anyone know who the voice actor is?
Tom Kane. --don't mess with me punk File:Eat.gif 01:36, July 28, 2010 (UTC)
some of the dates didnt add up
He died in 18 BBY as said.. however when facing Darth Vader he says "The dark side has clouded your mind. You killed my master years ago." because Vader believes his master to be around etc.. it says his master died in 19BBY only a year before Kento, not years... is this just a diffence in wording?
Also it states he meet his wife in the clone wars 22BBY-19BBY and they secretly marry. and they are married for 10 years in that time they had Galen Marek. however if they meet in the clone wars and were married for 10 years his date of death is only 4 years after the start of the war. so they would of been married for 4 years at the most.
Also if they were too of lived with the wookiees for 10 years. "His father, Kento, was a Jedi Knight who lived for ten years among the Wookiees." Bail Prestor Organa. Again the article states that when Order 66 began (19BBY) they escaped to Kashyyyk. with his date of death being 18BBY at the second battle of Kashyyyk. How could they of lived there for 10years? Gunny12 05:02, 19 February 2009 (UTC)
A President of the United States can serve for 8 years over a 12 year period. Kento did not need to have lived ten consecutive years with them. Gethralkin 02:01, 24 February 2009 (UTC)
True I did not think of it like that.Gunny12 04:32, 24 February 2009 (UTC)
Death Place
Edit
I dont know if I'm mistaking but Kento appears on Coruscant after Kashyyyk, so I think the death place should say Coruscant unless I've got my facts backwards.
24.131.169.104 23:44, 10 May 2009 (UTC)
But he did appear on Coruscant again didn't he,, or was that a different Rogue Jedi, and he said that he was Galen's father, so I would have to assume that was Kento there in Coruscant.
24.131.169.104 00:02, 11 May 2009 (UTC)
The rouge jedi disappeared after Galen killed him, he said at the end, "I'm sorry son."
204.169.65.4 15:25, 14 May 2009 (UTC)
A red Jedi? In any case, Kento died on Kashyyyk. The appearance of Galen's father while on Coruscant is from a supplemental level in a version of the game released for only one game console. The rest of the console releases do not have the Coruscant mission to the ruined Jedi Temple. However, even if canon, the mission only portrays Kento as a force vision, not a living Jedi. In that vision, Galen does not kill his father, as the above comment suggests; however, Kento expresses his dismay at how far his son has fallen to the Dark Side of the Force.

Gethralkin

Hyperwave

19:12, October 26, 2009 (UTC)
On Corucant it was a jedi trial that got the worst thing you had ever seen and you had to fight it or something like that it is hard to explain--74.137.144.91 03:16, December 29, 2009 (UTC)
Jedi General?
Edit
According to the article Kento was a Jedi who fought in the Clone Wars, since he is a Jedi Knight does this also mean he is a Jedi General? —Unsigned comment by Rac Ward (talk • contribs).