Talk:Kyp Durron
103,571pages on
this wiki
Infobox type
Edit
I'm not sure if we should consider Kyp a member of the Galactic Alliance. He obviously feels no loyalty to it whatsoever, and he feels that the Jedi owe the GFFA nothing. He certainly wouldn't seem to mind bludgining Cal Omas with the hilt of his lightsaber. -- SFH 23:13, 24 Oct 2005 (UTC)
Actually, I think Kyp is a member of the Galactic Alliance. It says so on his character page, and, even though I haven't read part of the New Jedi Order series, much less the Dark Nest trilogy, I still consider Kyp to be a Galactic Alliance member. But, I kind of think you're right. He might want to stab Cal Omas. You know what? He's kind of like my made-up character, Kyp Charger. He uses the same name. But, KD is kind of a rogue. I'm 50 50 on it. ---Jeedai123 00:34, 6 March 2006 (UTC)
Should he be added to the Sith characters category, or at least Dark Jedi? Kuralyov 23:41, 15 April 2006 (UTC)
Debatable. One might argue he was only Dark, or a Sith because he was possessed by Exar Kun. QuentinGeorge 23:44, 15 April 2006 (UTC)

I'd say he's suitable for the sith category HavetStorm 18:32, 16 April 2006 (UTC)
In a way he was possesed and he wasn't, but he did learn Sith techniques, and if that doesn't make him eligible, nothing will. RushinSundaws 10:18, 24 July 2006 (UTC)

no because he came back to the light, so he's in redeemed Jedi Jedi Dude 11:14, 24 July 2006 (UTC)

Well, Luke in his affilliations still has Galactic Empire listed and is still in the category for Dark Side adepts and Sith minions and acolytes so why can't Kyp be at least have the Sith minions and acolytes category added to his page, techniqely, he was Exar Kuns apprentice. Oh, and pardon my crappy, crappy spelling this morn'.RushinSundaws 11:19, 24 July 2006 (UTC)

Kyp wasn't a minion, he was an apprentice, but he was redeemed, i'll add him under the same sith catorgorys as Luke then Jedi Dude 11:23, 24 July 2006 (UTC)
They thought that people would get upset over not including Kyp in the series, but they thought people would be okay offing Chewbacca...Did the people at Del Ray even do any research into how fans thought? -- SFH 00:13, 14 May 2006 (UTC)
Is he anywhere in the new books Should he be? Maybe for the Corelliens Since he is opposed to the GA
he is not in betrayel, although i reckon he'll turn up eventually.."should he be" this needs to go to a ofrum..this is a discussion for the article, not the chracter, Jedi Dude 22:22, 7 July 2006 (UTC)
Kyp appears in "Exile" —Unsigned comment by 85.234.191.104 (talk • contribs).

Right, that's listed at the bottom of Appearances. -Fnlayson 16:10, 5 April 2007 (UTC)
Far too many of them - they're messing with the layout. 203.129.59.203 11:40, 24 July 2006 (UTC)
I recently found this searching JMAS's Archives. it's a really nice Live-action pic my only conserns are weather it's canon or Fanart and wether it will distort the Infobox
It's an edited version of a cover by I think it is Corran Horn. --Eyrezer 05:42, 7 October 2006 (UTC)
Yeah now that I look at it it does look like one of Corran's Old Main Images (which personaly I think is better then the current one) Valin "Tnu" "Shido" Suul 14:45, 7 October 2006 (UTC)
The current one show's his most recent appearance but I like this one too. Jaina Solo(

Goddess Stuff

) 25px 14:48, 7 October 2006 (UTC)

The problem with this image is that it is edited (even if it is canon). You are not allowed to edit except to blank out words in a comic...

- breathesgelatin

Talk

03:23, 9 October 2006 (UTC)

That's from the cover of The New Jedi Order: Dark Tide (Japanese Ver.). Also, it is more likely Corran Horn due to his role in those 2 books and the color of lightsaber. -Fnlayson 15:28, 26 October 2006 (UTC)
Actually that is Kyp Durron, NOT Corran Horn —Unsigned comment by 71.12.210.124 (talk • contribs).

That's the wrong colored lightsaber for Durron. -Fnlayson 23:49, 26 December 2006 (UTC)
This article has a redlink to "Lesvol". This article and the Fenig Nabon article both say that Lesvol is a planet. However, the Prishardia article says that it's a major city on Prishardia. Does anyone know which is correct? User:Jaywin
New main image
Edit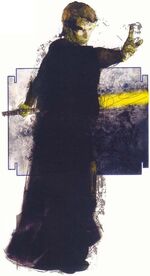 How about this one as the new main image then? It shows a more mature Kyp and personnaly I like the stance, perhaps it doesnt show the detail or something but I do think that it would make a better main picture.Galedze(

Connection Trough The Force

) 25px 16:15, 26 October 2006

That image is too coarse. The detail & quality is not as good as it should be for a main image. -Fnlayson 15:23, 26 October 2006 (UTC)

Possible, however you do must agree that is the 'best looking' image and it shows Kyp's character more then the others...Galedze(

Connection Trough The Force

) 25px 18:24, 26 October 2006

Hey, and did anyone else notice he's doing a jesus hand gesture in this one? Also, in every other picture of him with a lightsaber he is holding it with his right hand but in here he's using the left one for no reason. Maybe to keep the right hand available for the gesture? (jesus always uses the right hand for it) Nadav 20:34, 3 November 2007 (UTC)
Lightsaber Colour?
Edit
None of the pictures show Kyp's main lightsaber colour. I mean, there's violet, gold and red.
Abilities
Edit
We should include this section right? DarthMalus 22:46, 16 January 2007 (UTC)
that would be a great help.74.128.218.114 06:04, 9 July 2007 (UTC)tonyman1989
Leviathan
Edit
I'm trying to finish writing about Leviatan in the Jedi mission section. Any help would be appreciated. -Fnlayson 18:41, 7 February 2007 (UTC)
Eye color conflict
Edit
The article says Kyp has brown eyes. Dark Journey says he has green eyes. Which is right, and did DJ make another continuity error? -- Riffsyphon1024 05:44, 12 July 2007 (UTC)
His eyes are mostly drawn brown in the Leviatan comics. They look gray in some frames though. I don't recall his eye color being mentioned much. I'll look at some other sources tonight... -Fnlayson 16:12, 12 July 2007 (UTC)

I'm guessing its another goof on the part of Elaine Cunningham since Dark Journey has other slip ups, but it's given as green eyes several times. --

Riffsyphon

1024

19:02, 12 July 2007 (UTC)
"Continuity Error"
Edit
In the article, under the Continuity Error section, it states that Kyp did not kill "billions" as described in the book, as Carida only had a population of 25 million. However, this fails to take into account that Kyp destroyed the system's star and that the system had more than just Carida as a planet. Who knows how many sentients lived throughout the -entire- system - Carida was not the only victim of Kyp's attack. When the star goes, the entire system goes. --Danik Kreldin 13:54, 28 July 2007 (UTC)
True, but it does not look like the other planets in the system were populated. -Fnlayson 16:54, 28 July 2007 (UTC)

Does any particular source state this? --Danik Kreldin 02:58, 29 July 2007 (UTC)

I doubt it. I just looked at the planet articles on the system page. There's little or nothing on their populations. -Fnlayson 04:45, 29 July 2007 (UTC)

But I thought that he fired the torpedo into multiple stars thus destroying more than one solar system, could this account for the "billions"? (24.82.153.0 02:05, 11 January 2008 (UTC))
in jedi academy it said that kyp is 16 that mean i is born in 5bby not 7bby
in jedi academi it said kyp is 16 that mean he have to be born in 5bby —Unsigned comment by Alex2552 (talk • contribs).
It would be good to use the following quote somwhere on the page: "Once my greatest student, then my greatest enemy under the tutelage of Exar Kun. He has been through much... I believe Kyp could become the greatest of us all." This is Luke Skywalker thinking to himself in Jedi Academy: Leviathan Darth Newdar 05:42, 14 July 2008 (UTC)
Lightsaber
Edit
what color does he use currently? he's had 3. 70.131.246.177
Behind the scenes
Edit
In Star Wars Galaxies - a female NPC can be found on Corellia (Dooba Guerfal) during the legacy quest called Shobbo Durron. Romizzi 17:45, 13 June 2009 (UTC)
Doubt there's any relation to Kyp though? While we're at it, can someone also verify that Kyp is mentioned in Galaxies and in what context? -- —Harrar (Cut the comm chatter) 17:51, 13 June 2009 (UTC)
Undergoing revision
Edit
Currently undergoing revision. -- —Harrar (Cut the comm chatter) 16:52, 5 July 2009 (UTC)
Polarizing
Edit
Every time I view this page I don't think polarizing is good word to describe him, I mean he collected a large group of followers which makes him very charismatic, not polarizing. Should this be changedGTQ 22:08, March 16, 2011 (UTC)
Year Born
Edit
Everything I have read has stated that Durron was born in 5 BBY including the article on the year 5 BBY. And His biographical section in this article starts in 5 BBY, not 7. Human in Disguise 17:10, April 10, 2011 (UTC)
See the reference in the infobox.—

TK-999

(

Rise of the Empire

) 17:27, April 10, 2011 (UTC)

Is that taking into consideration that there is two "Zero Years" (0 BBY and 0 ABY)? And shouldn't someone fix the other pages to correspond to this one? I can do it if need be. Human in Disguise 19:04, April 10, 2011
Personality
Edit
why has nothing been written about durron's personality. user:Roguewarrior23
i tried to but but i was stopped by some wiki administrator called Ifindyourlackoffaithdisturbing. user:roguewarrior23