Main image
Edit
Don't get me wrong, I love the current picture (more than most people, probably), but as far as infoboxes go, I think this would be better, since it's more of a closeup. It's the one from the cover of Star Wars Insider 47. I had to de a little work to remove the logo, but people seem to think it looks okay. Here is what it would look like in the article. Any objections? -- Ozzel 20:31, 1 July 2007 (UTC)
(The old picture is this) (link added 9-24-2016) Jimw338 (talk) 02:10, September 25, 2016 (UTC)
I agree. We need a) a closeup and b) one of the liveaction closeups. This one works for me. QuentinGeorge 21:13, 1 July 2007 (UTC)

I've made an executive decision to go ahead and change it. If there's a big outcry, it can be flipped back, but I reckon it fits better. QuentinGeorge 21:15, 1 July 2007 (UTC)

Yes, definitely count me among those who like the old image but think this one is more fitting for the infobox. Not only is it more close-up, but it's also less seen. jSarek 23:06, 1 July 2007 (UTC)

I'm all for this new image. The old one just looked silly. --Imperialles 23:09, 1 July 2007 (UTC)
On a related note, anyone have a scan of that pic of "Good Mara" in green, from the same issue of Insider? jSarek 23:10, 1 July 2007 (UTC)

Yep, I scanned it too; I'll upload it soon. The one we have now is taken from another website. -- Ozzel 23:26, 1 July 2007 (UTC)

Heh, didn't even notice there was a copy of it just up this page a little. Oh well, I look forward to the upload and the image's addition to the article. jSarek 23:37, 1 July 2007 (UTC)

For some reason I feel that that particular image doesn't show off her character as much as the last one did. If you are looking for a head and shoulders pic I'd like to suggest Lukemaraben.Bioevil087 (

Mara Jade's Ex

) 16:05, 8 July 2007 (UTC)

I agree, this one doesn't show off her character as much, but I like it and think it would be better for the infobox image

- Jaina Leia Mara

Talk

Replacing what is essentially a high-quality live-action shot with an artist's impression does not make much sense to me. Atarumaster88 (

Talk page

) 17:52, 30 October 2007 (UTC)

Live action? It's a pose, and a pretty lame one at that. This looks like glorified cosplay. Almost any of the artist's impressions (which are probably older than this image anyway) are far more aesthetically pleasing than these 'live action' shots. In fact, back when there was a poll for Female character of the year or whatever, this pic is one of the reasons I passed on voting for Mara. After closer inspection of much of the artist's impressions, I might have made a wrong choice. Too late now though, but maybe if this were changed future newcomers wouldn't get the same idea I did. And it's not that Shannon McRandle isn't attractive, it's just not a great shot, I think it's the hair, the shots are from, what, '99? But it looks like 80's hair to me. 69.179.184.52 03:54, 14 April 2009 (UTC)

what'd u do???Ewokmenace 00:31, 29 March 2008 (UTC)
This image is extremely un-attractive. It makes it seem as though Luke Skywalker has horrible taste in women. There are pictures in this article that portray Mara as good-looking, this one does not. 68.0.31.212 17:05, 5 May 2008 (UTC)

You speak for yourself. jSarek 19:03, 5 May 2008 (UTC)
I concur. Take it back to the Legacy Cover. 98.134.144.62 06:22, 5 June 2008 (UTC)
I am split. While this image is good quality and a good close-up, Mara usually is... well, better-looking. this looks like she has wrinkles.74.186.151.239 00:36, 6 September 2008 (UTC).
I agree that the current one looks like shoddy cosplay. Most of the other pictures would be more fitting her, especially the ones showing her as the Skywalker wife and particularly Ben's mother. Sozcaps 08:48, September 2, 2009 (UTC)
Another agreement here. A contrived pose and very obvious wig mixed with an air-headed expression (no matter that it is live action- Mara Jade is a novel and comics character anyway) is out of place as the main image for a major Star Wars character. I believe a picture from the cover art of one of the books would be much more fitting and appealing to readers as the first picture they see of Mara. 71.114.132.16 19:48, December 2, 2009 (UTC)
Well the LA pic is kind of ugly
I think that the current picture of Mara is really ugly. Aren't there any pictures of her that are more attractive? I mean seriously, she does look like she's from a cheesy 80's ripoff.QueenTwi'lek14 03:18, February 3, 2011 (UTC)
Why not use the image from star wars atlas? and could someone please send me the link to the old image. thanks Fire-lord (If no one talks thing out, how will we ever have world peace?) ; 01:56, June 13, 2012 (UTC)
Talents section
Edit
This section sorta reads more like parts should be in the Biography section with blow by blow accounts. I thought Talents & Traits type sections were supposed to be more of a summary. I'm not saying the section should be tossed, just shortened. What do you think? -Fnlayson 22:13, 15 July 2007 (UTC)
I wrote it at the suggestion of Ataru, and he edited it and said it looked good. Honestly, though, whatever is best for the article is what I'm happy with. Go ahead an edit what you think needs to be taken out ;) Cheers, Greyman(

Paratus

) 22:17, 15 July 2007 (UTC)

It's a good addition, it just seems long to me. I'll wait see what others think. -Fnlayson 22:21, 15 July 2007 (UTC)

Ok, sounds like a plan. Greyman(

Paratus

) 22:24, 15 July 2007 (UTC)

The main reason I prefer a more in-depth section is so that we have examples to use as evidence when we say "Mara was a good spy" or "Mara was a good lightsaber fighter." The purpose isn't to recount every single duel or example of infiltration she had, but to provide a general overview of her abilities and highlight notable examples. Atarumaster88 (

Talk page

) 14:14, 16 July 2007 (UTC)
Does anyone think that we should also put Counteract poison? It happened in Vector Prime.--Princess Leia Organa Skywalker Solo 00:06, June 24, 2010 (UTC)
guys please, back to the point. Personally I think the pic looks weird and needs to be replaced--Muftak424 20:16, September 15, 2010 (UTC)Muftak424
Duel With Lumiya (On Capriori)
Edit
Shouldn't this be mentioned somewhere in the article? The Capriori section doesn't mention it at all, so the only information I've managed to find was in the Lumiya article.67.101.198.42 06:13, 3 September 2007 (UTC)
Yes, it should. We will add the necessary information as soon as we can. Thanks. Atarumaster88 (

Talk page

) 14:24, 3 September 2007 (UTC)
The emperrors last command
Edit
Maybe i am missing something or an important detail is missing on this page. There is no mention of the fact that while the emperror died he issued a command to his hand mara jade to kill Luke Skywalker. That was the reason why she could not get involved with him, she needed to kill him. Then when she and luke confronted C'baoth she killed Skywalkers clone with a lightsaber and freed herself from Palpatines last command. Before she lifted that curse she was not free from the emperror. That can be found in http://starwars.wikia.com/wiki/The_Last_Command
Subordiante Images
Edit
Re: The Solo and Skywalker family in the Yuuzhan Vong War (pic). You might want to identifiy trhe other two women in the pic. I 'assume' the one on the left of Master SKYWALKER is Master SKYWALKER-SOLO, to the right Master JADE-SKYWALKER. —Unsigned comment by 4.246.120.168 (talk • contribs).
The image page [1] already details that. Firebird Phoenix Rising

16:16, 11 October 2007 (UTC)
Mara Jade Enters Jedi Order
Edit
I always wanted to know what year Mara became a Jedi. Can anyone tell me?
Jedi Vilxi 00:04, 9 April 2008 (UTC)
Mara was loosely associated with the Jedi Order around 9 ABY when she met Luke. Later, she had some training via Kyle Katarn and Luke again around the era of 11 ABY. She didn't really become a full-time Jedi until after she married Luke, circa 22 ABY, around Survivor's Quest and Judge's Call. Atarumaster88 (

Talk page

) 01:43, 9 April 2008 (UTC)
I thought Luke and Mara got married in 19 ABY
When Mara knew about Luke
Edit
"Mara soon became envious of Vader and sensed a division in him, specifically because she didn't understand the basis of his obsession concerning Luke Skywalker." That was from the main page and it was before the Battle of Yavin. But in Allegiance (set 0.5ABY) on page 48 (paperback version) when she looks up Vader's search and it reads Luke Skywalker "Mara frowned, searching her memory. Had she ever heard that name before? She didn't think so."
So my question is, is the main page wrong about her knowing about Luke at that time and when did Vader first know about him as well? As he would have to know before ANH and that doesn't seem right to me.Bioevil087 10:25, 14 April 2008 (UTC)
Before the Battle of Yavin, she was tasked with gathering intelligence in order to help Darth Vader hunt down any Jedi she found that had survived Order 66—one such Jedi was An'ya Kuro. Mara soon became envious of Vader and sensed a division in him, specifically because she didn't understand the basis of his obsession concerning Luke Skywalker. Mara began to hope that Vader would betray the Emperor so that she could kill him and take his place as the Emperor's apprentice.
You're misreading the above paragraph and merging (so to speak) the second sentence with the first. (though I agree it's sloppy wording, I don't know how to better fix it). It doesn't state exactly when she became jealous. Either way, I think the envy only really rose after Allegiance. Firebird
Phoenix Rising 14:07, 14 April 2008 (UTC)
Hi. Perhaps it's the placement of those specific sentences, but those sentences are based on Mara Jade's statements in the PC strategy game Star Wars Galactic Battlegrounds as the narrator for the Imperial campaign, which takes place shortly after the Battle of Yavin. I'll work on moving those sentences for greater readability. Atarumaster88 (

Talk page

) 10:50, 14 April 2008 (EDT)
The problem I see is that both those paragraphs begin with a time reference and all paragraphs are meant to pertain to their first statement. So it simply seems (to me at least) that she knew about Vader's obsession with Luke but didn't understand why, which is in conflict with the information provided in Allegiance.
How about the first paragraph, if we have it so that she began to become curious about Vader's actions hunting down Jedi and after some investigation following the Battle of Yavin she first learned the name Luke Skywalker but couldn't recall if she had heard of him before. The second paragraph would begin with "During the time preceding the Battle of Hoth..."
How's that?Bioevil087 03:44, 15 April 2008 (EDT)
I did some rewording and combined two of the shorter paragraphs. It should be easier to read now. Atarumaster88 (

Talk page

) 13:39, 5 June 2008 (UTC)
Mara's Death
Edit
I'm just wondering, as it doesnt say anywhere i looked on wookieepedia, but how come mara couldnt counteract the poison in the dart jacen stabbed her with? shouldnt a jedi of her ability be able to neutralize it with the force? —Unsigned comment by 75.157.181.189 (talk • contribs).
Because the book never mentions anything about her countering the poison and Wookieepedia doesn't cater to fan theories. If you read Survivor's Quest, there are poisons which are difficult for Jedi to deal with and at any rate, take it up with Karen Traviss. Atarumaster88 (

Talk page

) 21:26, 17 June 2008 (UTC)

That was CORROSIVE POISONS. Corrosive means eroding or eating away. Explain to me what that poison ate away in her system?
(wookieman3) ok well i dont know about you guys but i dont think its fair that mara had to die. i know jacen had to kill someone he loved, but why not kill tenel ka or somthin . HONESTLY mara rules

Honestly wookieeman, I'm right there with you. I mean Padme' didn't die at the hands of Vader, and she was his sacrifice. Here's my question, Mara counteracted the poison in Vector Prime when she was bit by the amphistaff or whatever that was the Yuuzhan Vong used, so why couldn't she counteract it again? And there's no Sith lightning! Come on people can't you do any better than that?--Princess Leia Organa Skywalker Solo 18:33, May 26, 2010 (UTC)

If anything, he should've gone with his original plan, but let Leia live. I mean immortalize doesn't mean kill, it means make immortal. Or bestow unending fame upon? Ok, maybe I should look it up on the Webster's dictionary.--Princess Leia Organa Skywalker Solo 00:12, June 24, 2010 (UTC)
I was at Celebration V yesterday, and got to talk to Troy Denning about why Mara had to die. Jacen was, apparently going to be killed off anyway, ditto there. So, for his sacrifice, Ben was going to become his padawan, now for him to become shady, someone he loved had to die. Leia was a possibility (like I said before) but they couldn't touch her because of Lucas, so it had to be Mara. Denning assured me that if they could've done it any other way, they would've.--Princess Leia Organa Skywalker Solo 23:02, August 15, 2010 (UTC)
It's not wookieepedia's fault Mara got killed. The talk page is sopposed to be about mistakes on the wiki.
Conflicting information
Edit
Her birth year is said to be 18 BBY in the infobox and then 17 BBY in the article. Which one is right? Stake black msg 17:27, 27 August 2008 (UTC)
18 BBY is the sourced birthdate, so I'm assuming that the former is correct. However, I noticed that her age-at-death is wrong as well; for her to be 75 when she died, she either had to be born in 35 BBY or die in 57 ABY. Or is there some sort of difference between our human years and the years in Star Wars? // ~mikah~ 18:36, 27 August 2008 (UTC)

That doesn't denote age of death. It denotes a different system of measuring years IIRC. Atarumaster88 (

Talk page

) 23:20, 27 August 2008 (UTC)

Oh, I see. Seems like I'll be taking a look into that, 'cause I was always under the impression it meant age and frankly, I hate feeling confused about things. Thanks. // ~mikah~ 01:18, 28 August 2008 (UTC)
no one knows exactly how old she is because palpatine isn't exactly the type to celabrate birthdays.
Why is Caedus referred to as Mara's murderer? Wouldn't "Mara's killer" be more correct, since Caedus was actually acting in self defense? It may sound nitpicky but I think it is more accurate.Mad Jax 20:48, 31 August 2008 (UTC)
yeah I agree Steves490 20:50, 31 August 2008 (UTC)

I have reworded the article to show that while Caedus wasn't explicitly Mara's "murderer"—it was more or less a fair fight. Instead, I stated that Ben believed Caedus to be her murderer. All through Revelation, Ben conducts his investigation like that of a murder crime scene, which is why I wanted to leave that word in there. Atarumaster88 (

Talk page

) 01:27, 1 September 2008 (UTC)

I don't what your talking when you say it was a fair fight. Cedus made it unfair when he used the Force to create an allusion of Ben. He knew she was going to hesitate. If you ask me, a fair fight is using Force pull and push, and a lightsaber. That Force allusion made it an unfair advantage. Mara was practically impossible to kill unless she was weak or you were a sniper. If Jacen died, it would be his fault, he should've known better.
--Princess Leia Organa Skywalker Solo 00:03, June 24, 2010 (UTC)

I think he was her murderer. I mean, she fought first, but he wanted to kill her. Maybe it was in self defense, but he decided she would be his sacrifice. LeiaOrganicSolo 00:32, 6 September 2008 (UTC)
Very true. I mean, "self defense" is blocking a lightsaber slash, not deciding to kill a family member, planning it, then attacking them. I think it was technically murder.74.186.151.239 00:40, 6 September 2008 (UTC)
There is room for argument I suppose, but the more generic "killer" still covers it succinctly, whereas "murderer" is subject to controversy. Anyway, the way it is worded now is fine.Mad Jax 00:04, 22 October 2008 (UTC)
It said in Sacrifice that Caedus thought she would kill Allana, and he was trying to kill her too.
During the duel itself, Jacen isn't thinking, "better kill Mara before she kills me." What he's thinking is, "if I kill Mara now, I won't have to deal with her after I murder her son." 'Self defense' is just how he rationalizes it later. Don't get me wrong, I don't think that Mara was an entirely blameless victim here, but let's not forget that Jacen had the chance to run away after she crash-landed on Kavan. So no, Jacen does not get to whine about how it was all in self-defense. Calling Jacen Mara's killer instead of murderer is fine, but I don't like how the entire wiki basically takes it as a fat that Jacen was acting in 'self defense'.
Powers and abilities section
Edit
I believe it would be appropriate to form Mara's "Talents" section into a Wookieepedia-adherent "Powers and abilities" section, especially in light of the article's apparent Featured status. A "talents" section is fine, but a section properly devoted to her Force abilities (which P&A section are usually geared towards) I think is required. I'm usually the minority in opinion, but are there any others who see where I'm coming from? —Tommy9281

(Peace is a lie) 01:04, 7 October 2008 (UTC)
As often as I come here, I'm surprised I missed that myself. I definitely side with you on this one. // ~mikah~ 02:12, 7 October 2008 (UTC)

To be honest, I rather like it the way it is. "Talents" is a much broader word that encompasses her own Force powers and the long list of skills that she possessed. However, if you're that set on changing it, start a talk page vote or bring it up for Inq review. Atarumaster88 (

Talk page

) 20:54, 29 October 2008 (UTC)

Do such steps really need to be taken? It's written in the MoS that P&As should be standard to begin with. I was under the impression the current information would be kept, and any necessary powers-abilities facts would just be added as we went along. // ~mikah~ 21:01, 29 October 2008 (UTC)
It's also written in the Layout Guide and has been cited that section requirements are somewhat flexible. Might I point out that there are three long paragraphs on Mara's Force abilities in there? Perhaps a little bit of tweaking could be done to the actual prose, but I see no need to break up one coherent section. At most, I might rename it to "Skills and abilities" or even the slightly clunkier "Skills, abilities, and talents" section. Atarumaster88 (

Talk page

) 21:06, 29 October 2008 (UTC)

I seemed to have missed the flexibility bit. In the case of all you've pointed, I suppose there really isn't much need for change. (Tell that to Obama, but I'll leave the political cracks to the folks that actually have a clue about what they're talking about.) // ~mikah~ 21:15, 29 October 2008 (UTC)
RotJ (radio)
Edit
I am currently listening to the radio dramas of the original trilogy and will be glad to expand the article in that area once I've finished. ZEM talk to me! 21:05, 26 February 2009 (UTC)
Great! Thanks. If not, I've get it this weekend when I listen to the ROTJ one for Lando. Atarumaster88 (

Talk page

) 21:08, 26 February 2009 (UTC)
OK, the article has been updated! ZEM talk to me! 17:33, 28 February 2009 (UTC)
Mara in "Dark Empire"
Edit
Is there any information about the whereabouts of Mara Jade During the events of Dark Empire??? -- Frank V Bonura - The Bane of Revisionism 04:34, 19 May 2009 (UTC)
Jedi Knight: Mysteries of the Sith. She was in a reciprocal apprenticeship with Kyle Katarn. —Unsigned comment by 69.223.91.201 (talk • contribs).
Infobox image reloaded
Edit
See also #Main image above.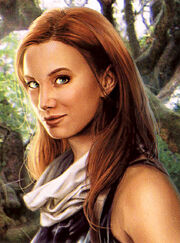 I wanted to replace the infobox image with the one from The Essential Atlas (see right) but got reverted because it seems precedent that live action images should be preferred. Obviously, I disagree because I think the infobox image should show a close-up, no matter if drawn or LA. I think this article is different from G-canon articles like Luke Skywalker or Han Solo because those have images that show how the character "officially" looks like while there is no "official" look for Mara and thus we should strive to use the best possible image in the infobox, not some model cover of a magazine. If it were drawn on SW Insider 47, noone would use it in the infobox, would they? What do you think? Regards SoWhy 08:40, 29 August 2009 (UTC)
Actually, Insider is canon and the image is an official canon shot of Mara. As well, if the cover of Insider was an illustration of her and it was good, it would definitely be at least considered for use in the infobox. I do like the TEA pic of Mara, the first decent mugshot (Ben Skywalker) of one of the main characters I've seen so far, but Live Action pics should remain preferred over the illustrations.

NaruHina

Talk 08:54, 29 August 2009 (UTC)

Of course Insider is canon, it's just C-canon and thus on the same level as the Essential Atlas in terms of canon while the other examples are G-canon. I see no reason why else we would have to prefer a bad LA pic over a great drawn picture and I could not find a single policy or guideline to that effect. Regards

So

Why

10:00, 29 August 2009 (UTC)

Differences in canon only come into play when there is a conflict between sources, just becuase something is G-canon does not mean it is more important or any different than C-canon if the two pieces of info are unrelated or unconflicting. Also, the pic isn't bad, IMO.

NaruHina

Talk 16:49, 29 August 2009 (UTC)

Based on our precedent, the article's main infobox pic should stay at the live-action pic. The Trevas drawing does indeed look very nice, but for consistency's sake, the main image should remain as is. Atarumaster88 (

Talk page

) 02:36, 31 August 2009 (UTC)

Consistency with what exactly? Articles like Jacen Solo or Ben Skywalker have no live action pic either, so there is no overall consistency, is there? Regards

So

Why

08:10, September 2, 2009 (UTC)

By all means point us to the copious live-action and canon pictures of those two characters. QuentinGeorge 08:46, September 2, 2009 (UTC)

My point was rather that since not all articles have live action pictures, there is no overall consistency in those matters anyway, is there? On the other hand, other than "we always did it that way", I found no reason for such a preference of live-action pictures, so I would humbly request for reasons that can be against such a change. Regards

So

Why

10:10, September 3, 2009 (UTC)
The examples you used do not have live action images because there was never a live action depiction of such characters. For those that there are, such as Mara, Jerec, Kyle Katarn or Yun, we use those. QuentinGeorge 10:26, September 3, 2009 (UTC)

I believe an exception should be made in this case. Here, the live action shot is shoddy and unappealing. This is the first image readers will view when they visit this article; it is important that readers get a solid impression of Mara as a character with this first picture. The current main image is very obviously a model with a wig. Although they aren't vaunted live action pics, the various book cover art shows much more of the character's personality in her facial expressions and poses, and characterizes Mara much more effectively than the current picture. Please change it! 71.114.132.16 20:13, December 2, 2009 (UTC)
I vote to change it. 202.68.95.174 22:04, December 1, 2010 (UTC)
-Is she sopposed to be on Kashyyk? because the section with that picture is about the Legacy of the Force series, and Kashyyk show's up in the legacy of the force series in the 6th and 7th book and Mara dies in the 5th book.
Mara made a master
Edit
Hi, I've been rereading the NJO, and I noticed that in Dark Tide: Onslaught Mara is described as a Knight in the Dramatis Personae, while she is a Master in the DPs in Ruin and later books. Don't know if that deserves to be mentioned in the article, but I thought I'd bring it up. Tjace 05:59, September 23, 2009 (UTC)
Death Quote
Edit
I suggest changing Mara's death quote to her last words from Sacrifice. It seems more fitting. Any disagreements?--DK743 19:25, September 24, 2009 (UTC)
I'm not completely up to date with FA and GA and all that...could you explain please. --DK743 19:48, September 24, 2009 (UTC)
Oh, never mind then, if the article is already perfect, then never mind changing the quote. Sorry.--DK743 20:18, September 24, 2009 (UTC)
Light Saber
Edit
Ok, i'm lost, Luke lost his Lightsaber in Cloud City, while basttling his father, how could she recieve it when it was lost? Luke constructed a green lightsaber after he lost his father's--Princess Leia Organa Skywalker Solo 17:43, October 27, 2009 (UTC)
In the novel The Last Command the hand Luke lost at Cloud City was used to make a clone of him, Luuke Skywalker. Luuke was given Luke's first lightsaber to battle Luke with. After Mara killed the two mad clones, Luke recovered the lightsaber and presented it to Mara as a show of friendship and trust. --JMasterWor 21:04, October 27, 2009 (UTC)
Thanks, I got the trilogy over christmas and read it, very good books.--Princess Leia Organa Skywalker Solo 18:36, May 26, 2010 (UTC)
In Abyss it says that Mara, Jacen, and Anakin appeared to Luke and Ben in the lake. Did she say anything to them or did they just see her? And shouldn't be included in her article? jedi_master425 November 5, 2009
Lightsaber
Edit
Alright I know that Mara had a purple ligtsaber like in the info box image and she had Anakin's/Luke's old saber and she used both. But which one did she use around the time of her death? jedi_master425

Luke's, she lost her amethyst one in a fight with Lumiya (At least I think it was in a fight with Lumiya)--Princess Leia Organa Skywalker Solo 23:55, June 23, 2010 (UTC)
New Image
Edit
I want to replace the curent infobox image
with this one:

It's closer up,of a highter quality and just as canonicle as the one up ther now and it's much nicer. If their are no objections in 3 days I will do it. General Kenobe

comlink 18:40, March 2, 2010 (UTC)
You will not. Mara Jade is a featured article, and the image currently in the infobox is the best representation of her as we prefer live-action images over illustrations where appropriate. - Cavalier One(Squadron channel) 22:13, March 2, 2010 (UTC)
What if the illustration is beter,newer and shows the character beter than the live-action image? The live-action one dosn't even show her trade-mark red hare clearly. The pic. is odviously a modle with a wig; it looks kind of corny(no ofence to Shanon Mcrandle[did I spell that right?])

General Kenobe

comlink 01:59, March 3, 2010 (UTC)
Those are our policies. Changes to featured articles must usually be discussed first. Additionally, this discussion already happened (above). Dr. Kermit(Complain.) 02:32, March 3, 2010 (UTC)
Mara Jade Plus Luke?
Edit
i have been lolling this over in my mind for awhile if anyone wants to debate this im up for it
in the legacy of the force series luke and mara jade are married but did he know that before it was forbidden for a jedi to be in a relationship like that or did he just want it that way i personally like it because of its story filling ability but the question still bugs me what about all of you? --Redari 19:51, March 2, 2010 (UTC)
Luke and Mara got maryed just after the Thrawn campain. Luke new that the Jedi of the old Republic where forbiden from a relationship like that but since he was the grand master (another thing the old Jedi didn't have) he decided to change that. If I where Luke I wouldn't have allowed that.

General Kenobe

comlink 20:34, March 2, 2010 (UTC)
the old jedi order had a grand master. thats what Yoda was and there were some before him. jedi_master425
Wasn't the Thrawn Campaign in the Thrawn trilogy?--Princess Leia Organa Skywalker Solo 18:38, May 26, 2010 (UTC)
Luke and Mara got married in Union, more than 10 years after the Thrawn trilogy.Marcheto 15:49, June 11, 2010 (UTC)Marcheto
When Luke rebuilt the Order he didn't have a luxury of being choosy. So when he found several promising jedi who were already married, he had no choice but to ax that prop. So why not take advantage of that? --The Great and Grand Count Mall! 05:41, October 29, 2010 (UTC)
Was Jade Mara's last name before she married Luke and then become her middle name or was it her last name? Jade was her last name before the marriage, but I don't think it's her middle name after that. It's more like a double surname (if there's anything like that).Marcheto 15:54, June 11, 2010 (UTC)Marcheto
Yes, Jade was Mara's last name before she married Luke. But (and this is only speculation, as I haven't read a lot of books or comics with Mara in it) I would think that she'd want to keep a little bit of herself in her name from before she married Luke. And yeah, it's like she's Mrs Jade Skywalker. Even though people refer to her as only Mrs Skywalker. Emiigurl 20:42, June 12, 2010
Usually on wookieepedia, if someone gets married, their maiden
name goes before their last name iv'e noticed

Death Quote
Edit
I think it would be better if we used Mara's last words as shown in Sacrifice, as they describe her whereas the current quote describes Caedus.--Jen'ari Xer'lyx 20:44, March 16, 2010 (UTC)
Maybe Mara's last words and the quote about Jacen could be in the same section, with the quote of Mara talking to Jacen going first?--Darth Revanon 20:46, March 16, 2010 (UTC)
As for the "Legacy" quote, this one seems to fit better, since it's about Mara rather than about Cade:
"It's not about the legacy you leave, it's about the life you live."
―Mara Jade, to Luke and Ben
--ID-21 Dolphin

(Talk) 03:00, December 8, 2010 (UTC)
Unknown lightsaber??
Edit
I've only read up to Vector Prime so far, so I'm not sure... does Mara construct a new lightsaber? Because there are two images in this article where it shows Mara with a lightsaber that does not look like Luke's ESB one... one photo being the cover of the Swarm War (jap cover). --76.186.199.106 08:30, April 26, 2010 (UTC)
Apprentice
Edit
When did Anakin become her padawan?
The New Jedi Order: Dark Tide I: Onslaught. Firebird
heart's eye 11:15, May 16, 2010 (UTC)
Similarities
Edit
This is rather irrelavent but does anyone else think in her current picture Mara Jade almost looks like Mikie James the women wrestler. Im not suggesting a change but I was just wondering if anyone else saw the similarities. TheRommel
This talk page is for discussing the article, not for discussing Mara Jade or similarities between pictures of Mara Jade and other individuals. Atarumaster88 (

Talk page

) 02:57, June 27, 2010 (UTC)
Mara's Blaster(s)
Edit
Of all of her blasters, which model of blaster is this? [[2]] Taliesin2 04:32, August 9, 2010 (UTC)
New section in behind the scenes
Edit
I ask that no one edit this section unless they have something to contribute to it. The "fan" that I was talking about, was me. I don't have any recordings of the conversation, but I do have pics. (which I can't upload), Christie Golden was also there. So please, u have any doubts, bring it up with me FIRST.
ROTJ (movie)
Edit
is that her in the movie standing behind buush when she brings chewie in for the bounty(2007 LEDVD 0:15:53) Verlok 19:47, October 12, 2010 (UTC)
Mara Jade was 57 when she died not 75
Edit
Excuse me, but if Mara Jade was born in 17 BBY... and died in 40 ABY... then she would be 57 years old.. not 75 years old... somebody screwed up on her little synopsis under her main article picture. Think about it. If she was born in 17 BBY, that's 17 years before 0BBY/ABY. Then an addition 40+ years... thats 57. —Unsigned comment by 71.0.194.144 (talk • contribs).
Voice Quote
Edit
How did we get the "call me Ariah" quote? She wasn't in the movies.--Avmatoran 21:22, March 14, 2011 (UTC)
From the Return of the Jedi (radio). Marcheto 07:14, March 15, 2011 (UTC)

Oh, thanks. What about the one on the dark trooper page with Kyle Katarn and Mon Mothma? --Avmatoran 11:34, March 15, 2011 (UTC)
Next to the quote is the source. If you hover over it you'll see. Marcheto 14:57, March 15, 2011 (UTC)
2.2 Updated with new information
Edit
I noticed that on Mara's Family tree where it ways next to Ben Skywalker "Unknown Female" the the link send the reader to the Vestara Khai page. Is this accurate or was this just want we were all hoping for?--JediMasterKing'

(Personal Temple Comm Channel) 00:54, June 21, 2012 (UTC)
Order of Events/Capture by Blackhole
Edit
The order of events need tweeking. The events surrounding her capture by Blackhole occur prior to her seeking out Kyle Katarn for training in Mysteries of the Sith. The adventure seed that the info is taken from is titled "Kyle Katarn, Meet Mara Jade" alluding to their first meeting and the info contained within implies that it takes place shortly after the events of The Last Command which would place her capture c. 9 ABY not 10 ABY when Mysteries of the Sith takes place.
Inaccuracies? I Fail To Understand...
Edit
Mara Jade is described in the Jedi Academy Trilogy (I think that was it - if not, there's one other book we have it might have been, I'd have to go look for it to see it's title), which treats her as a brand new, first appearing character, as a tall, beautiful woman, "built like a dancer." (The creator of the character gets highest canon stance about the character's personality, looks, etc., period. So, whichever writer invented her's version is what this article should focus on, followed by other versions. Any version not in tune is a character corruption by later writers, like fanfiction authors who don't get published often do, as well.) But, on this wikia article, she's slightly under 5' 3", which is not tall; and, the images of her are unattractive, squat (so probably short), chubby/overweight, butch (some are so much like a man that it looks to be a hermaphrodite, and I am not being mean, I am stating a FACT based on ACTUAL anatomy of the sexes!), and not remotely passing as "built like a dancer," despite it specified "built like a dancer." I'm sorry, but the actual written description wins over cover art, fan art, fans cosplaying, etc. (Any artist renderings that don't adhere to the description are also character ocrruptions, and are the same as when a maker of fanart messes up. The only one who had higher say in these things than the guy who invented Mara Jade is George Lucas, and he is not the source of this ugly version of the character.) Too many of those images don't match Mara Jade outside of being redheads. And, another issue.. The section indicating where she's featured in various books, and such is not in any sensical order. It should be in the order by when it came out, or at least another order that makes sense! It's chaotic, and weird! (And, no I'm not heightist against short folks. I am short, and actually heightist against tall people. But, she was specifically described as tall, and now I'm told by this wikia she was less than an inch taller than my petite person!)
Appearance
Please stop changing Mara Jade's hair to "flame red." Every single Timothy Zahn book says her hair was "red-gold." We'd call that strawberry blonde today. As he is her official creator, can we stick with his description of her appearance?
Also it was never written by a novelist that Mara constructed a purple lightsaber. She constructed a magenta lightsaber as described on Timothy Zahn's 'Allegiance.' After she lost that, she only used the Anakin Skywalker blue blade until her death. There's nothing in the actual novels to say otherwise. Jaina and Anakin Solo constructed and used purple lightsabers.
Please, please go with the official novelizations to get the characters' details.
Jade Skywalker
Edit
Calling her this is awkward. I get that by our real world customs we would use that naming convention when writing an article, but seeing as how this is a fictional character, I think using her established name of Mara, Jade, Mara Jade, or just Skywalker would make more sense. As it is, every line has her referred to as "Jade Skywalker" and it's just a little odd sounding because no one refers to her that way. 47.186.200.173 10:09, June 3, 2018 (UTC)