Video Game?
Edit
Wasn't there a PC game where you could design your own Gungan village? I could have sworn I saw something like that around the time TPM came out.Quidon88 22:43 15 May 2006 (UTC)
Thanks, I just found it. Any good? .Quidon88 22:58 15 May 2006 (UTC)
This article says that Otoh Gunga was destroyed. However, in the movie, Jar Jar simply refers to the city as "deserted". Was it actually destroyed or was it simply damaged and the Gungans chased out? 75.67.142.56 02:54, 1 September 2007 (UTC)
Jar Jar's mother redirects here. Is there another article? 86.20.154.205 18:39, 25 June 2008 (UTC)
Main image change
Edit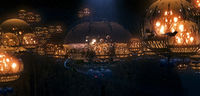 I know that the current infobox image is from a movie, which is much higher canon than anything else, but I wonder if we shouldn't use a picture fropm Star Tours: The Adventures Continue instead. The one I'm linking here is much bigger, clearer, has brighter colors and shows the city at its latest known stage (1 BBY). Any thoughts? --LelalMekha (talk) 00:07, February 2, 2013 (UTC)
Let's see how the mods will handle it. BTW, speaking of Otoh Gunga and Star Tours, should we make an article regarding an advertisement that also listed Otoh Gunga as a visitable locale? Weedle McHairybug (talk) 13:05, February 2, 2013 (UTC)
Main image change (vote)
Edit
Since it's customary to feature a "last known appearance picture" as the infobox image, I suggest that we replace the current pic by one coming from Star Tours: The Adventures Continue. As the events shown in the attraction occured around 1 BBY, it's the most recent appearance of Otoh Gunga. The picture from Star Tours is also brighter and free of that strange reddish-hue from Star Wars Episode I: The Phantom Menace.
Option 1 (current)
Edit
Discussion
Edit