Talk:R4-P17
107,677pages on
this wiki
Dreadnoughts of Rendili
Edit
Are there two R4s in this storyline, or was the R4 in Anakin's ship actually meant to be R2, while R4-P17 gets wrecked when Kenobi is aboard the Titavian? 69.253.241.122 02:18, 16 December 2007 (UTC)JC
Revenge of the Sith
Edit
Is it known how R4 was in ROTS when the ship he was in blew up on Yavin in the Microseries? Did Anakin re-bulid him --Darthsith19 05:37, 14 Jan 2006 (UTC)
Feminine Programming?
Edit
Since when did R4 have feminine programming? What basis is there for this "fact"? -Milo FettComlink 23:19, 15 November 2006 (UTC)
Gotcha. -Milo FettComlink 00:53, 17 November 2006 (UTC)
She survied on the flagship because wege adlanties owns her now also she is cute and she sqweeks insted of beeps —Unsigned comment by 207.241.247.30 (talk • contribs).
She clearly survived the flagship incident due to the fact that Obi one gets his ship back later in the film, and she is still attached to it, although she does have a new copper colored dome for the rest of the film. IG-113 23:23, 26 December 2007 (UTC)
1 he didnt get his ship back, that was a new ship with a new astromech (r4 g9) 2 even if he did get his ship back it wouldnt do any good since an astromechs mind is stored in its dome (as shown when r4 gets her head cut off and is wailing as she drifts away) 3 what is your source for wedge owning her, are you sure it isnt another dome topped r4? 4 george lucas said somewhere that he instantly decided on her being a girl (cant remember where) so i guess that sorts that out81.108.233.59 15:51, 20 July 2008 (UTC)
Hyerspace Coordinates
Edit
As best I remember, R4 series droids were only able to compute one set of hyperspace coordinates at a time; this prevented them from being used in starfighters. [This is from my memory and the R4-series agromech droid page]. So should something be put in this article about Anakin changing that as well? Serendipitousus 07:11, 12 December 2006 (UTC)
I hate it when astromech die and not r2 it feels like there being treated like crap!
i know i hate crulety to droids ;( 81.108.233.59 15:52, 20 July 2008 (UTC)
color change
Edit
In Revenge of the Sith, sometimes R4's body is white with red designs, while at other times his body is red with white designs like R2-R9's? I think the correct coloring is the white with red designs like it is in the action figure, The Clone Wars movie, and on Obi-wans revenge of the sith starfighter toy.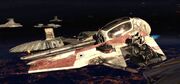 I was reading the astromech page in New Essential Guide to Droids that it was an accident in kuat drive yards, and anakin found her in a trash compactor during an inspection.DeathWatchSukz 05:32, July 23, 2010 (UTC)DathWatchSukz