Talk:Rank insignia of the Galactic Empire
103,567pages on
this wiki
Forum:CT Archive/Imperial insignia page. —Silly Dan (talk) 05:29, 27 January 2007 (UTC)
Legacy Empire
Edit
Shouldn't there be expansion on the design and layout of the Legacy Era Empire's Insignia? -- Riffsyphon1024 12:59, 24 June 2006 (UTC)
Definately! But this begs the question of how much we should amalgamate the rank and uniform pages.... --McEwok 17:25, 26 June 2006 (UTC)
Admiral Kazz
Edit
I'd like to see this article explain why Admiral Kazz insisted on wearing his insignia upside-down. Or at least make a note of it. —Silly Dan (talk) 19:23, 3 August 2006 (UTC)
Well, it matches one image of Tavira... let me think about this? --McEwok 23:06, 12 March 2007 (UTC)
The "Artoo's files" section
Edit
If no-one objects, I'm going to restore the pargraph that was removed: I think the distinction between movie evidence and Expanded Universe needs to be made somehow in the discussion, but I do also think that the movies can be discussed as "in-universe" material:
We see prequel scenes preserved as holos by Artoo in the Dark Nest Trilogy.
The reference to "the cache of files presented by R2-D2 to the Whills in around 104 ABY" is based on a behind-the-scenes comment by George Lucas.
The Ep.IV opening crawl was written by Voren Na'al in Galaxy Guide 1: A New Hope. He was suggesting that a narrative version of the story of Luke and the Death Star could be made.
Perhaps we could rephrase it less contentiously, though: "It is generally agreed that the most reliable and accurate body of evidnce for events in the Imperial period consists of surviving visual footage, but while this offers useful examples of rank insignia, it contains no explicit guide to the overall structure of the system, and it is not by any means clear that one system is being consistently used in all the footage."
Anyone...? --McEwok 23:06, 12 March 2007 (UTC)
I think the above statement is very reasonable and should be put in the article. 64.235.77.3 19:48, 16 September 2008 (UTC)
Imperial Rank Colors and Battle Droids
Edit
After seeing the prequels, I have a theory as to what the Imperial rank colors mean. In Episode I, the battle droids with red markings are security, the blue markings signify a pilot, and the yellow markings are for commanders. I wonder if the Imperial colors mean something similar? --KievanMereel 21:46, 5 July 2007 (UTC)
Bast's rank
Edit
The new Death Star novel finally confirms Bast is a general, lower-ranking than Tagge but higher-ranking than Motti.JustinGann 10:41, 19 October 2007 (UTC)
Bast was actually a Chief--a non-comissioned officer having gold squares with two red as distinguished from Tarkin's yellow. Another lower adjunct wore 6 gold as did Captain Khurgee; all were petty officers.
Of course, it's arbitrary to discuss this, since the first "ranking system" was never codified, and has devolved through the movies; rank plaques bear no meaning as to the officer's rank--it's completely whatever the costume designer wanted for the films. —Unsigned comment by 99.147.177.21 (talk • contribs).
2.2 Updated with new information
Edit
Addenda
In reference to the confusion between commander and captain ranks in verbal use as well as to the problem of obvious Admirals, Moffs etc. wearing captain/commander rank during the battle of Endor:
In historical navies around the world, and even in some modern ones, it is an unwritten rule that there is only ever one "Captain" aboard a ship. Any other officers holding that rank who were traveling on that same ship were promoted or demoted (according to seniority) when refered to verbally so as to avoid confusion as well as to denote respect for the actual commander of the ship. The easiest solution, it appears to me, is that the Imperial navy has one rank (denoted by six squares stacked two high) which, if denoting the commander of a vessel is referred to as "Captain" while when referring to an officer aboard the vessel who is not its commander as "Commander."
Also, throughout history, many very high ranking officers chose to wear their field-grade rank instead of their flag rank when actually commanding troops. Lieutenant General Lee, commander of all Confederacy forces in the Civil War usually wore a Colonel's rank insignia--the highest rank he had actually earned in the United States Military. General Grant also aparrently disliked wearing his proper insignia. When he accepted General Lee's surrender, he was wearing a Private's blouse with his insignia hastily sewn on--a marked contrast to Lee himself who had (in a rare display of finery) put on his full-dress General's uniform. Admiral Piett could have been wearing his Captain's insignia for this reason. Another, more likely, reason is that there were four (possibly more) Grand Admirals present at the battle of Endor. Since a Grand Admiral superseeded all other officers, an was known for his tactical proficiency, it is highly likely that one or all of these men were the titular commander of the Endor Fleet. In this case, it is likely that Piett would have been the actual field commander but he would not have been the actual commander of the flet and, once again citing the proper deference to the titular commander (similar to the one-captain-on-the-ship situation) it would have been improper to refer to Piett as Admiral if another was officially in command. It is traditional also for a commanding admiral to retain titular command of the flagship of the fleet, therefor, it would have been appropriate, in the presence of a higher-ranking admiral, for Piett to have officially served as Captain of the Executor, rather than as Admiral of the Fleet.
Thank-you
Very Respectfully, etc. etc.
_________________
US Military —Unsigned comment by 129.29.227.2 (talk • contribs).
I feel that the last post (or parts of it) should be in the behind the scenes (ROTJ blooper section), as it seems to shed light on possible explanations for rank insignia in the film. —Unsigned comment by 64.235.77.3 (talk • contribs).
Praji insignia
Edit
After examining many images from A New Hope, it seems that Praji's rank insignia is not actually four blue squares followed by two gold, but actually four blue followed by two red, from the viewer's left to right, with code cylinders on either side. The action figure made of Praji backs this (seen here). This article ought to be corrected immediately.--SOCLcomm 19:43, January 29, 2010 (UTC)
Commander, Captain: Convarion and his black uniform
Edit
The article mentions (without source, mind you) Ait Convarion from the novel X-wing: The Bacta War and uses his rank as justification for placing the rank of "Commander" above the rank of "Captain" in the Imperial Navy; it goes on describe this is just part of the evidence that Commander is higher in rank than Captain, thus implying that other evidence exists. first, examine the other "evidence":
1. Thanas, Bakura, & the Imperial "squadron": The fact that Thanas commanded a small unit of warships at Bakura is hardly evidence of the rank of Commander superseding the rank of Captain, particularly in light of the fact that the unit possessed a single capital warship, the small Carrack-class cruiser Dominant, a class of warship, mind you, that is alternatively called a "gunship", matching the signifier for some of the other ships in the Imperial unit, while the rest are very small corvettes. It could be argued that, in fact, none of the Imperial warships at Bakura are capital ships/warships-of-the-line. Further, we have evidence of the fact that the Bakuran task force was little more than a defense force tasked with exploration and mapping and not meant for combat en earnest. If this is the case, the use of a graded Commander commanding the task force is not at all inappropriate, and may have been done as a way of preserving higher-ranking officer for more critical combat operations, such as the concurrent rebellion. It may also be argued that the commanding officer of the Dominant, Dren Jamer, is referred to as a captain, and thus serving under Thanas supports the evidence that Thanas's rank of Commander is superior to Jamer's rank of Captain. The evidence, however, should more correctly be read as Jamer being captain of the Dominant in the way "captain" refers to a ship's commanding officer rather than an officer of the graded rank Captain.
2. Commander Demmings: Demmings is another point of reference, an individual who assumes control of a command assigned to a Moff but is clearly shown with the rank plaque/insignia of a Commander (i.e. a row of three red bars over a row of three blue bars with two code cylinders on either side). The fact he replaced a Moff is hardly surprising when we consider that this is a regime that promotes individuals of quite low rank to ranks and positions of considerable power, prestige, and authority, regardless of ability, merit, and time (e.g. Thrawn's public promotion from Vice Admiral to Grand Admiral, civilian Il-Raz's promotion to Grand Admiral, to name just two). In fact, the "rank(s)" of Moff do not seem to have a very clearly defined or set path of promotion and seem to not even require any military or civil experience, especially when you consider that examples exist of persons outside the command structure assuming the role of Moff (e.g. Leonia Tavira). Thus, it could be said that any individual, regardless of rank could assume the rank of Moff. In the case of Demmings, it appears that merit, experience, and a healthy dose of having served someone of considerable gravity earned him the promotion to Moff, a rank, title, and position that by all appearances is "supracommand", that is to say, outside and above the traditional command structure. More on Demmings below under the Sankaran entry.
3. Sankaran: Sankaran, Demmings' de facto, if not de jure second-in-command, presents a bigger problem. If all convention is to be followed, then his insignia is, in fact, the same as Demmings' and ought to signify him as a Commander. Interestingly, though, he is referred to as a "Captain", which may mean he is an Army captain of inferior rank. Putting this particular theory aside, we may find that Sankaran, in becoming Demmings' second-in-command, may in fact have become the commanding officer of the Reprisal's commanding officer, in which case he may be ranked Commander but addressed as "captain" by virtue of his command. In that particular situation, Demmings' concurrent rank of Commander does not seem quite at odds as Demmings does not appear to be the Reprisal's formal commanding officer and it is not particularly unusual for an individual to serve under a person of equal rank (e.g. Pellaeon as a ranked Captain aboard the Chimaera without being the vessel's commanding officer; the posting of two ranked Captains aboard real-world U.S. Navy aircraft carrers and LHDs). This explains why Sankaran is verbally addressed as "captain" (i.e. commanding officer) while Demmings is verbally addressed as "commander" (i.e. his actual rank). We must also not neglect to point out that Jerjerrod, the Moff overseeing the construction of and commanding the second Death Star, was addressed as "commander" throughout his tenure, despite evidence of other Moffs being addressed as "Excellency" (i.e. Specter of the Past, Vision of the Future), regardless of what rank of personnel are posted aboard the station. This is being done, it seems, in light of his position as "commander" of the station (as opposed to commanding officer of a vessel), rather than rank. In Demmings case, we may be seeing this same matter being played out, where a person assuming the role of Moff is referred to as "commander" in light of the command he directs rather than his rank, though it may certainly be dual or either - regardless, it can still be understood without making the rank of Captain inferior to that of Commander.
4. Convarion: Finally we return to the issue of Convarion, commanding officer of the Corrupter. Based on the description found on page 134 of Bacta War, Convarion's rank plaque and insignia is described as being worn on his left breast and consisting of "only six color tabs" accompanied by "two rank cylinders" understood by the perspective-character as making him a "Commander, not a mere Captain". The entry goes on to read: "Even so, because of his position of command on the ship and Imperial tradition, addressing him as Captain would be proper." This is certainly an appropriate verbal address for the commanding officer of a vessel. Vorru, the perspective-character, despite being a criminal, is himself a former Moff and would likely have understood the subtleties of rank and insignia. We are led to believe that his rank corresponds to the traditional rank of Naval Commander and thus establishes the fact that Convarion's case proves he is both a Commander and thus Commander ranks higher than Captain, but this reading is made in error. Vorru, quite astutely, points out that Convarion wears a black uniform, and not the traditional olive-drab uniform of Starfleet officers. In light of this, the reader should think of another individual: Commander Praji. His rank insignia can also be described as being six color tabs with two rank cylinders, and he too wears a black uniform. What we realize, thus, is that Convarion may not be a naval officer, but may in fact come from a Stormtrooper background, in which case the comment of not being a "mere Captain" makes sense as a Captain in the Stormtrooper Corps is very clearly understood to be inferior to the rank of Commander as Captain in this sense is similar to an Army Captain while Commander is similar to that of an Army Lieutenant-Colonel. The Stromtrooper Corps in itself is very clearly a hybrid branch of the Imperial armed services, drawing on experience, backgrounds, personnel, and resources from both Naval and Army traditions. A sign of this is the persistent rank of Commander among their ranks and grades, with an alignment somewhere along the lines of lieutenants, Captain (Army-style), Major, Commander, Colonel, etc, respectively from inferior to superior. This may also be related to the way Jedi Padawans commanding in the Grand Army of the Republic were styled and perhaps even ranked "Commander", despite the GAR primarily acting as a ground/surface force (i.e. traditional Army), as the Stormtrooper Corps is much more the heir to the GAR than the Imperial Army. This also fits with certain real-world examples where hybrid branches, in particular Marine branches, carry cross-over ranks. The discussion of Stromtrooper Corps ranks and organization is a discussion best left for another place and time. In this case, suffice to say Convarion is clearly a Commander in the vein of the Stromtrooper Commander Praji and not Naval Commanders. Thus Vorru, an individual who is shown to be quite an astute observer and understanding of ranks, uniforms, and insignia of the Imperial armed services, comments on how he is not a "mere Captain" because Convarion is of a Stromtrooper background and thus should be understood as "not a mere [Army/Stromtrooper] Captain." The fact Convarion is the commanding officer of the Corrupter gives him the right to the title of "captain". Why a Stormtrooper Commander is commanding a vessel is perhaps odd, but is not the first instance of a commanding officer of Naval elements not coming from the Navy: i.e. Motti referring to High General Tagge's "starfleet" in the Death Star conference room, Colonel Cronus commanding a flotilla of Star Destroyers (though these were understandably extraordinary circumstances, he appears to be knowledgeable in the command of Naval warships), and a few more examples I have read but have the misfortune of being unable to cite, though will due so at the earliest moment I find them. 5. Other cited cases of individuals of "commander" rank in positions of great regard or authority, even over personnel of "captain" ranks should be understood in light of the above evidence, and the following ought to be taken into account:
1. Is the individual the commanding officer of a vessel?
2. Are other individuals commanding officers of a vessel?
3. Do we have more than one person of the rank of Captain in the situation with one as superior?
4. Is the "commander" ranked as such or simply addressed as such, as in the case of Jerjerrod?
5. Are they from the Stormtrooper Corps?
6. Is the inferior individual called "captain" a Naval Captain, or is it possible/likely they are from the Army/Stormtrooper Corps?
I believe with this in mind, one can conclude that the instances of the rank of Commander being seemingly "superior" to that of Captain can be understood as instances of confusion regarding title, verbal address, and branch.
I thus faithfully submit that the article be modified to show that Captain is, in fact, superior in rank to Commander, or at the very least this counter-argument be placed in the article in an appropriate manner and location.--SOCLcomm 15:08, February 1, 2010 (UTC)
Major edit to the page
Edit
I just did a major edit to the page. Added eras and infobox. Also wrote a description of the rank badge itself. I moved the majority of old text (the study and speculation) to the Behind the Scenes section. I really think this page contains too much content in form of the study material, but I did not edit anything out. --Davidvcsandersen 00:03, February 19, 2012 (UTC)
Guide to Warfare
Edit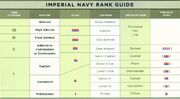 Does the new Essential Guide to Warfare make things perfectly clearer? I see there's a page entirely dedicated to the Imperial Navy ranks (page 120). I'd gladly edit it myself, but the subject is a bit too technical for me—English is not my first language. I hereby provide a poor scan of the table, which is accompanied by several paragraphs of more in-depth explanation in the book.--LelalMekha 09:42, May 6, 2012 (UTC)
Grist for the mill
Edit
A few weeks ago, I wrote these two short paragraphs based essentially on The Essential Guide to Warfare; I believe this may be of interest, but I'm not sure how to add it in the article proper, granted its current state" is kind of messy. I'd appreciate if anyone who has interest in the subject would give me feedback, and perhaps we'll be able to clean this mess together.
"Imperial line officers—those who commanded the captain ships and their bridge crews—held permanent line ranks. They could also hold a position, which corresponded to their current assignment to a specific unit or ship. In theory, the insignia was associated with the officer's line rank, but officers with the position of ship's captain or fleet admiral would always wear the plack of a senior captain and a full admiral respectively.<Source=The Essential Guide to Warfare>
The usual arrangement consisted of a row of red squares above a second row of blue squares. Notable exceptions included the rank insignias worn by Admirals Trommer<Source=River of Chaos 1> and Kazz.<Source=
Star Wars: Ewoks—"Battle for the Sunstar"> Forces far from the centralized control of the military's organization were known to flout the uniforms regulations,<Source=Star Wars Miniatures Battles Companion> which may explain such insignia anomalies."
NB: Additionally, The Essential Atlas also shows that specialist ranks within the Navy have the same names and wear the same rank placks than the army officers. --LelalMekha (talk) 16:09, August 23, 2012 (UTC)
General Rom Mohc's rank plaque and code cylinders
Edit
I edited the page. Changed the picture of General Mohc. The old picture was a "vertical stretched" version of what is actually seen in the Dark Forces. This made his rank plaque look out of proportion and stick out from the other rank plaques. The new picture is not stretched. But it is cropped so that the focus is on the rank plaque and code cylinders, as this article is about just that. This is a screenshot of what is depicted in the game. It is 4:3 format: [1]. This is what was depicted in the article before: [2] --Davidvcsandersen (talk) 08:20, March 6, 2013 (UTC)