Where was he stated to have died on Kirrek? In the TOTJ comics he is not even seen on Kirrek. If this information about his death was taken from the TOTJ comics then I suggest that all that has been written about his death be removed and changed on the article as in the Great Hyperspace War the only person that looks a bit like him is a Sith Lord on Coruscant....and we don't even see him die.--Obi-wan Jacobi 05:38, October 25, 2009 (UTC)
Quotes on Coruscant??
Edit
Assuming that Dakhan did go Coruscant and that he is this guy: (1)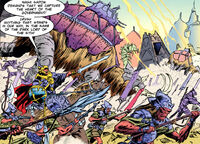 which the article implies, then he died in battle against Memit Nadill as shown here: (2)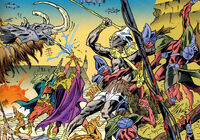 Is Dakhan said to have gone to Coruscant with his fleet from another source other than the comics? And if he did go to Coruscant is it certain that he fought on ground as shown by the pictures? The pictures do look like they are of Shar Dakhan, but the only problem is that Shar Dakhan when he is first (and possibly only seen) is wearing a white tunic, while the commander on Coruscant (that this article suggests is Shar Dakhan) is wearing a blue tunic, but has the same armour. But unless a trust-worthy source actually says that Shar Dakhan said those things that are quoted in the article as to be said by HIM and not another Sith commander on Coruscant, that they are said by him is an assumption and probably should be removed. What are your thoughts????--Obi-wan Jacobi 08:47, November 12, 2009 (UTC)
Hey Obi-Wan, no other source that I know of says explicitly that Shar Dakhan went to Coruscant with his fleet. However, if you look here to the left, you'll see Shar Dakhan on Coruscant, astride his warbeast, and back in his white tunic. This image is the very next page of the comic after your exhibit (1). The Sith fighting Memit Nadill in your exhibit (2) is not Shar Dakhan, and that can be determined by the back of his helm; Dakhan's had two horns, while this individual's has none.—Tommy9281 (No truth in me) 18:01, November 12, 2009 (UTC)

Ahhh very good, I didn't notice that. Well in this case, the quotes that we have on the article that are said to have been Shar Dakhan's should be removed as another Sith commander is saying them.--Obi-wan Jacobi 23:26, November 12, 2009 (UTC)

I think you might have misunderstood. Shar Dakhan is the guy who said that stuff, but not the same guy who dueled Memit Nadill. I believe that the colorist made an error when Dakhan is shown speaking because on the very next page the same horn-helmed character appears with the white tunic & on the warbeast charging against the Jedi on Coruscant.—Tommy9281 (No truth in me) 23:36, November 12, 2009 (UTC)

Ohhh I thought they were different people, I guess it could have been a coloring error.--Obi-wan Jacobi 23:47, November 12, 2009 (UTC)
Acting Dark Lord
Edit
"When it became clear that surrender was the only option, acting Dark Lord Shar Dahkan ordered his his warriors into suicide attacks against the invading fleet, inflicting heavy casualties and forcing the Republic into a temporary retreat." -page 128, The Essential Atlas
Shouldn't the information here be integrated into the article? It seems very important towards his role in the Great Hyperspace War and afterwards. —Obi-wan Jacobi
21:29, December 7, 2009 (UTC)
Should it be added? Yes. But as IFYLOFD was the user who promoted the article to GA status, he is the one who should add in the information. Grand Moff Tranner (Comlink) 21:45, December 7, 2009 (UTC)

Shouldn't this be added to the Dark Lord page and the succession box as well? Or is acting Dark Lord not quite cool enough? Charlii 12:19, December 10, 2009 (UTC)
Ad blocker interference detected!
Wikia is a free-to-use site that makes money from advertising. We have a modified experience for viewers using ad blockers

Wikia is not accessible if you've made further modifications. Remove the custom ad blocker rule(s) and the page will load as expected.