Talk:Verpine
107,655pages on
this wiki
If all intelligent Verpine are hermaphroditic, then what about in The Swarm War when the Verpine tell the Jedi "... AND THE MALES-WHO-DIE-FOR-THE-HIVE-MOTHER ARE ALEADY IN BATTLE." A hive-mother would most likely be an intelligent being with a permanent gender. Also, for warriors to be most effective they must be intelligent, which leads one to believe that there are also intelligent males with a permanent gender. Perhaps Verpine society is more common to the Flakax in that intelligent males are only to protect the intelligent female hive-mother, and all (besides drones) are hermaphroditic? (Asharpone11 03:00, 1 March 2007 (UTC))
Was it Troy Denning who first developed this part of Verpine society, and what literary canon work did he write that contradicts the information in The Swarm War?(Asharpone11 03:00, 1 March 2007 (UTC))
Are the Verpines reptilian humanoids?—Unsigned comment by 71.10.72.23 (talk • contribs).
Links where there should be none
Edit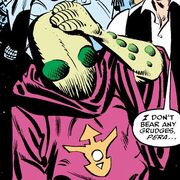 OK I am confused. Why on earth (or any other planet) would Star Wars Gamer 4 identify the buggy priest as a Verpine??? Do these alien races look anything alike? Clearly there must be some mistake. Are we 100% sure on this one??? -- Frank V Bonura 14:53, December 22, 2009 (UTC)
We're sure. Page 43 of Gamer 4 is quite explicit. "The House of a Higher Power is run by a Verpine priest known only as Pera." --

Darth Culator

(Talk) 15:09, December 22, 2009 (UTC)

Yipes, score one for inconsistency. I still don't see why linking marvel comic aliens to the later established races from the RPGs and novels is necessary. I think it would better serve common sense and the STAR WARS community to declare many of the unnamed races as new races. There are supposed to be thousands of alien races in this galaxy so why revisit instead of clarify and expand? It seems nonsensical to call Pera a Verpine when he was never intended to be a verpine This is a case where talking to Roy Thomas and Howard Chaykin to get some input, ideas, and most important answers, would have served everyone much better. -- Frank V Bonura 17:04, December 22, 2009 (UTC)
Does anybody know some more sourcing?
Beyghor Sahdett seems to be the first Verpine with wings, and it's clear he can retract/hide them somehow. As this is from the fairly recent "Blue Harvest" arc of Dark Times, should it be mentioned in description? ---RCKTalk 18:27, November 19, 2010 (UTC)
Yeah, probably under "Biology and appearance." The writers of DT (in one of the letters columns) said that most Verpine have these vestigial wings surgically removed (which should be mentioned under "Society and culture") but, due to running for his life, Sahdett hasn't had time to do so. ~ SavageBob 23:46, November 19, 2010 (UTC)