The Extremes TPB says right on the cover and on the inside information that all events in the TPB take place in 138 ABY. Why am I the only one seeing this? Is there a variant TPB saying 137?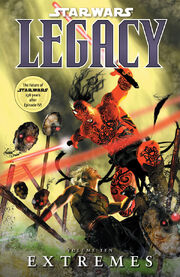 PS, yes I know I uploaded this but it isnt tampered with. Heres a link http://www.darkhorse.com/Books/Previews/17-549 --The Great and Grand Count Mall! 16:16, December 23, 2010 (UTC)
That is indeed what it says, on the cover. What does the interior say?—Jedi Kasra (comlink) 07:03, December 24, 2010 (UTC)
Ad blocker interference detected!
Wikia is a free-to-use site that makes money from advertising. We have a modified experience for viewers using ad blockers

Wikia is not accessible if you've made further modifications. Remove the custom ad blocker rule(s) and the page will load as expected.