Tallaani Shipyards
Talk

0
103,519pages on
this wiki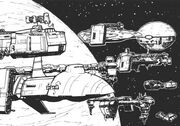 The Tallaani Shipyards, also known as Tallaan Imperial Shipyards, were a number of shipyards in orbit of Tallaan.
They were established in 4,000 BBY. The yards manufactured the Mansk-class light escort frigate. Once the New Republic came to power, the shipyards went to work producing warships for the New Republic Navy. During the Yuuzhan Vong Invasion of the galaxy, the Tallaani Shipyards were defended by General Garm Bel Iblis.
During the Second Galactic Civil War, the Tallaani Shipyards went on to manufacture the new Bothan frigate, which was used by the Confederation in their drive toward Coruscant.
Appearances
Edit