"We are Talz, and all Talz are one. Talz remind ourselves of this always. Our language is not your concern."
―Armaruk
Talz was the native language of the Talz species from Alzoc III. It was mainly formed by buzzes and chirps, with variable pitch being an essential feature.[1]
The Talz throat and proboscis structure made them unable to speak most languages of the galaxy except for their own. Most Talz were not fluent in Basic and had no understanding of it. As Talz language was not very well-known outside Alzoc III, protocol droids were usually not fluent in that language, although they could easily be programmed to translate it.[1]
P'zil - home[2]
Snoigit - an expletive
Ka - we
Pooka - have
Ping - returned
Cheekee - promised
Ba - as
Wa - war
Kee - it
Chee - is
Muhzmarcha - peace
Lokip - War
Notable non-native speakers of Talzzi
Edit
Appearances
Edit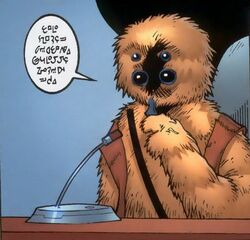 Notes and references
Edit
↑ Star Wars: The Old Republic—Sith Warrior Mission: "Jedi Master on Ice" on Hoth