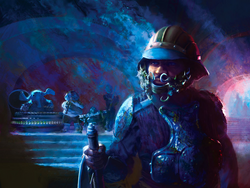 Tamtel Skreej was the alias taken by Lando Calrissian during his stay at Jabba's Palace, as he attempted to rescue his friend Han Solo, who had been frozen in carbonite. An essential part of the resulting disguise was a mask of gondar tusks to hide his face.
Under this name, he attempted to earn Jabba's trust by participating in the crime lord's demolition events, using one of Jabba's Bantha-II cargo skiffs as his chosen vehicle.
Behind the scenes
Edit
The "real" Tamtel Skreej, whose name and armor Lando stole, appears in the non-canon story Skreej. To protect his disguise, Lando Calrissian pushes Skreej into rancor chow.
Appearances
Edit
Non-canon appearances
Edit
Ad blocker interference detected!
Wikia is a free-to-use site that makes money from advertising. We have a modified experience for viewers using ad blockers

Wikia is not accessible if you've made further modifications. Remove the custom ad blocker rule(s) and the page will load as expected.