Tamtel Skreej
Talk

2
107,654pages on
this wiki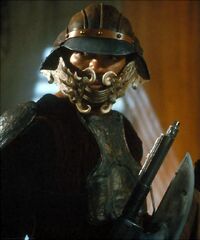 Tamtel Skreej was the alias taken by Lando Calrissian during his stay at Jabba's Palace, as he attempted to rescue his friend Han Solo, who had been frozen in carbonite. An essential part of the resulting disguise was a mask of gondar tusks to hide his face.
Under this name, he attempted to earn Jabba's trust by participating in the crime lord's demolition events, using one of Jabba's Bantha-II cargo skiffs as his chosen vehicle.
Behind the scenes
Edit
The "real" Tamtel Skreej, whose name and armor Lando stole, appears in the non-canon story Skreej. To protect his disguise, Lando Calrissian pushes Skreej into rancor chow.
The look of the character on this comic was based on the late Mexican comedian Gaspar Henaine also known as "Capulina".
Appearances
Edit
Non-canon appearances
Edit