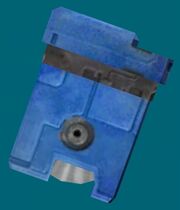 A Targeting Assistance Mem-Stik was a modified memory module rigged to plug into a datapad to provide combat assistance. When this mem-stik was used, it provided its user with a continuous update on hostile target positions.
In 1 ABY Colonel Quarsh Panaka gave a Targeting Assistance Mem-Stik to a spacer that helped him in his investigations of the criminal Skaak Tippers.
Appearances
Edit
Ad blocker interference detected!
Wikia is a free-to-use site that makes money from advertising. We have a modified experience for viewers using ad blockers

Wikia is not accessible if you've made further modifications. Remove the custom ad blocker rule(s) and the page will load as expected.