"Build your own droid and engage in intergalactic commerce at this outpost selling Star Wars and Star Tours memorabilia."
―Official Walt Disney World website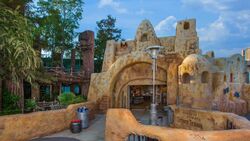 Tatooine Traders, originally called Endor Vendors, is a store in Disney Hollywood Studios that sells Star Wars and Star Tours themed merchandise, including souvenirs, clothing and toys. Many of the items sold there are exclusive to Disney Parks. The exit of the Star Tours ride leads guests directly into the store. The exterior of Tatooine Traders is themed to resemble the buildings of Mos Eisley and Mos Espa. The store was originally called Endor Vendors and themed to resemble the Endor shield generator bunker, in keeping with the Endor forest theme of the attraction's exterior. The store was remodeled in the late 1990s around the release of Star Wars: Episode I The Phantom Menace, though the other parts of the ride building remained unchanged.
External links
Edit