This Techno Union facility was a laboratory on Nelvaan. It was used by the Techno Union to mutate male Nelvaanian warriors. These mutated warriors had a blaster grafted to their arm and some form of control device on their chest. These experiments were based around a siphon generator that drained thermal energy from the surrounding area, resulting in the endless winter experienced all over the planet. The base was destroyed by Anakin Skywalker, the Nelvaanian's prophesied Holt Kazed, who liberated the Nelvaanian warriors in the Battle of Nelvaan in 19 BBY.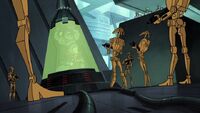 Appearances
Edit
Ad blocker interference detected!
Wikia is a free-to-use site that makes money from advertising. We have a modified experience for viewers using ad blockers

Wikia is not accessible if you've made further modifications. Remove the custom ad blocker rule(s) and the page will load as expected.