Teckla Minnau
Talk

4
109,652pages on
this wiki
Teckla Minnau
Biographical information
Homeworld
Died
Physical description
Species
Gender
Height
Hair color
Eye color

Blue[6]

Skin color

Fair[6]

Chronological and political information
Era(s)
Affiliation
"What has happened to democracy… and why doesn't anyone seem to care?"
"Well, you do. Forgive me, my lady, umm… you're not like most politicians."
―Padmé Amidala and Teckla Minnau
Teckla Minnau was a Human female who served as a handmaiden to such Naboo politicians as Senator Padmé Amidala and Queen Kylantha. Born in the city of Parrlay, Minnau attended a private school in Naboo's capital, Theed, with her half-sister, Nandi. When the Trade Federation invaded the planet and attacked Theed in 32 BBY, Minnau fled from the capital and waited out the invasion at a marsh village. Minnau and Nandi later entered into service to Senator Amidala, and in 22 BBY, they managed her family's Lake Country residence of Varykino. At the dawn of the Clone Wars later that year, Minnau was sent to Coruscant's Naboo Embassy, where she worked with Amidala's staff. While raising children in the difficulties of wartime, Minnau helped Amidala by encouraging her in her career in the Republic Senate, and she also assisted in concealing her senator's pregnancy. Upon Amidala's death and the establishment of the New Order in 19 BBY, Minnau returned to Naboo, married a writer, and became one of Queen Kylantha's aides.
Biography
Edit
Early life on Naboo
Edit
"If only that were enough, Teckla."
"Well, you actually talk to the people—people like me."
―Padmé Amidala and Teckla Minnau, on the latter's comment about the former's uniqueness as a politician
The Human female Teckla Minnau was born in the city of Parrlay, Naboo, to a middle-class merchant family during the reign of the Galactic Republic. She grew up with her half-sister, Nandi, and they formed a close relationship in a childhood that was largely free of incident. They were eventually sent to Naboo's capital of Theed, where they stayed at the household of their law clerk brother, Rehtul Minnau, and attended a private school to be instructed in the ways of hospitality, history, etiquette, and the arts. In the year 32 BBY, the Trade Federation invaded Naboo, and Theed was attacked; just hours after the Federation assault, as gun battles raged through Theed's streets, Minnau and Nandi accompanied members of the Royal Naboo Security Forces in fleeing to nearby swamps. The half-sisters were separated while doing so, and for several days Minnau had to avoid Federation bombing runs and Single Trooper Aerial Platform patrols. After reaching a marsh village, Minnau waited out the rest of the invasion there[1] until Naboo had been liberated by forces led by Queen Padmé Amidala and Gungan Boss Rugor Nass.[8]
During the celebrations of the Naboo victory, Minnau was reunited with Nandi, and they went on to complete their schooling. Within a decade of the Invasion of Naboo, Minnau and Nandi became employed as servants of Amidala, who had since risen to be Naboo's representative in the Republic Senate. While Amidala worked in the Senate on the galactic capital of Coruscant, Minnau and Nandi remained on Naboo to manage the senator's family estate, Varykino, in the Lake Country,[1] where they worked as resort waitresses.[7] In 22 BBY, after being targeted by a series of attempts on her life, Amidala returned to Naboo with a Jedi bodyguard, Anakin Skywalker, and decided to stay at Varykino. Minnau and Nandi waited on Amidala and Skywalker at the estate during the pair's dinner,[9] serving freshly hand-picked shuura fruit after their meal[1] and then returning to clean up the pair's plates.[7] It was only a short time later that the Clone Wars broke out across the galaxy, and Minnau was subsequently recalled to join Amidala's staff at Coruscant's Naboo Embassy. In her new position, Minnau was once again separated from Nandi.[1]
The Clone Wars and beyond
Edit
"Teckla is one of my aides. Like so many of the people that we tell ourselves we're here to serve, Teckla lives in a district that rarely has electricity and running water—as a result of the war. Her children can now only bathe every two weeks, and they have no light in which to read or study at night."
―Padmé Amidala, in an address to the full Republic Senate
Minnau continued to serve Amidala as a handmaiden during the war,[5] and by around 21 BBY,[10] Minnau had begun to raise children of her own. Because of the war, however, the district where her family lived had sparse access to running water and electricity, to the point that her children had no light to read or study by at night and could only bathe every two weeks. Yet despite these hindrances,[6] Minnau remained a loyal aide to Amidala.[4] Following a Senate debate on a proposed bill to escalate clone trooper production, Minnau accompanied Amidala from the Senate Building back to her office in the Republic Executive Building and brought back a datapad for her; she remained there while Amidala spoke with her close allies, Senators Bail Prestor Organa and Onaconda Farr, about defeating the troop proposal. A night later, when Amidala, bruised and battered after a run-in with bounty hunters, returned to her Naboo Embassy apartment, Minnau treated her facial wounds with an antiseptic. Although Minnau suggested that Amidala report the incident to the Jedi High Council, the senator refused, as she knew that her assailants had been trying to prevent her from voting against the troop increase. Minnau provided moral support for Amidala, who was losing hope with her prospects of outvoting the bill, and at the senator's request, Minnau stayed at the apartment to tell her about the war's effect on her family, a conversation that Amidala took to heart.[6]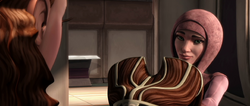 When Organa was injured by the same bounty hunters who had attacked Amidala, he was unable to deliver a scheduled speech against the clone trooper escalation bill, and the task of addressing the Senate fell to Amidala. Although Amidala was not confident that her fellow politicians would listen to her given her partisanship, Minnau, presenting her senator with her formal Senatorial headpiece, convinced her to speak before the Senate by citing the fact that she was the one who truly understood the war's impact on the Republic citizenry. Minnau accompanied Amidala to the Senate Chamber, where she watched her address the Senate body. In a speech that was broadcast across Coruscant,[6] Amidala provided a moving account of the war's effects on Minnau, an everyday civilian,[5] and her family, arguing that the longer the conflict went on, the more it would consume funds for the people's basic services.[6] Her address stirred the Senate,[5] and her colleagues received it with a thunderous round of applause.[6] Because of her speech about Minnau, Amidala won much support in the Senate,[11] though the bill was ultimately passed to escalate clone trooper production.[12][13]
Amidala later became pregnant, but she did her utmost to keep it a secret.[14] Minnau was one of the few beings entrusted with the knowledge of her senator's pregnancy, and she served as a caretaker and nurse to Amidala. She also did her part to keep the pregnancy hidden from others.[1] In 19 BBY, Amidala died, and Supreme Chancellor Palpatine transformed the Republic into the Galactic Empire.[14] As the New Order was established and rose to prominence, Minnau returned to Naboo, where she intended to live out the rest of her life. She married an aspiring writer and, in time, became a handmaiden to Naboo's Queen Kylantha.[1]
Personality and traits
Edit
"I've been against this bill from day one! If they didn't listen to me before, why would they listen now?"
"Because you do listen. You understand what the people are going through. Please… your people are waiting for you."
―Padmé Amidala is convinced by Teckla Minnau to speak before the full Senate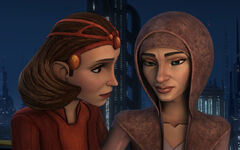 A loyal aide to Senator Padmé Amidala[4] and a trusted handmaiden under Queen Kylantha, Teckla Minnau possessed enough skill in the fields of etiquette and hospitality to be employed by the Royal House of Naboo in several capacities, first to Amidala and later to Kylantha. A resourceful individual, Minnau was able to survive the Invasion of Naboo despite being in great danger.[1] While serving Amidala, Minnau placed the senator's needs before her own without complaint, even in the difficult times that the Clone Wars engendered.[4] She dutifully tended to Amidala's wounds after the senator was injured in an encounter with bounty hunters, and she was of the belief that Amidala should report the encounter to the Jedi Council. Minnau did not support Amidala simply through matters of administration or physical treatment. She was quite concerned for her senator on a personal level, providing words of encouragement when Amidala was losing hope that no one else cared about the ongoing deterioration of democracy within the Senate. Because Amidala was willing to interact with "people like" herself, Minnau believed that her senator was unlike most politicians in that she actually listened to the words of the people, was concerned for the wartime struggles they were going through, and cared about their needs[6]—such principles, Minnau saw, were a strength of Amidala's.[15]
Minnau was timid at times; while attempting to comfort Amidala following the bounty hunters' attempt on her life, she became embarrassed when she felt that she had said too much, and she subsequently made to leave. However, she stayed when her senator asked that she tell her about her family and their repercussions from the war. Minnau later mustered up the confidence to convince Amidala to speak before the Senate in Bail Organa's place, citing Amidala's trait for understanding the war's true effect on the civilian populace. Because of Minnau's conviction, Amidala was able to find her own confidence to address the full Senate; though Minnau was fairly surprised when Amidala indeed spoke before the Senate, she still supported her decision.[6] Amidala trusted Minnau to keep secrets[16] and confided in her about her pregnancy, a piece of knowledge that was reserved to a select few's ears; Minnau was subsequently able to help her conceal her pregnancy. After Amidala's passing, Minnau, resolving to live out the rest of her time on her homeworld, continued her life by marrying a writer and becoming a dependable aide to Queen Kylantha.[1] Minnau was able to speak Galactic Basic Standard,[6] and her first name was fairly common among Humans.[17] At Varykino, she wore a simple blue dress with a matching head cap,[9] and while serving Amidala on Coruscant, she donned a hooded, lavender-colored outfit.[6]
Behind the scenes
Edit
"Teckla Minnau's character name was pieced together over time from multiple sources."
―Episode Guide for "Pursuit of Peace"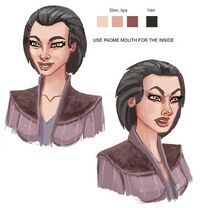 The character of Teckla was conceived for Star Wars creator George Lucas's 2002 film Star Wars Episode II: Attack of the Clones,[9] although she made her first appearance prior to that in author R. A. Salvatore's novelization of the film, in which she was identified by her first name.[7] The name "Teckla" was mentioned in the 2003 Galactic Campaign Guide as an example of a Human female name,[17] but it was not until 2008[5] that the character's backstory was elaborated upon in a StarWars.com Databank entry by Evan Burger, writing as "Shadowcultist," through the Star Wars Hyperspace feature What's The Story?[1] In using the surname "Minnau" for Teckla, Burger alluded to the name that actor Nathan Hamill had created for his own character, Rehtul Minnau, in the 1999 film Star Wars Episode I: The Phantom Menace.[5]
Minnau received an entry in the 2008 The Complete Star Wars Encyclopedia[16] and was mentioned in the twenty-eighth issue of De Agostini's Star Wars: The Official Starships & Vehicles Collection series.[18] In December 2010, eight years after her original creation, Minnau was given a prominent role in "Pursuit of Peace," the eleventh episode in the Star Wars: The Clone Wars television series' third season, in which she was voiced by actress Ashley Moynihan.[5]
Appearances
Edit
Notes and references
Edit
↑ 1.00 1.01 1.02 1.03 1.04 1.05 1.06 1.07 1.08 1.09 1.10 1.11 1.12  Teckla Minnau in the Databank (content now obsolete; backup link on Archive.org)
↑ 4.0 4.1 4.2 4.3 4.4  Clone Card: Teckla Minnau on StarWars.com (content now obsolete; backup link on Archive.org)
↑ 5.0 5.1 5.2 5.3 5.4 5.5 5.6  The Clone Wars Episode Guide: Pursuit of Peace on StarWars.com (content now obsolete; backup link on Archive.org)
↑ 6.00 6.01 6.02 6.03 6.04 6.05 6.06 6.07 6.08 6.09 6.10 Star Wars: The Clone Wars – "Pursuit of Peace"
↑  "Pursuit of Peace" - The Clone Wars Episode Guide on StarWars.com (archived original article; backup link on Archive.org)
↑ 16.0 16.1 The Complete Star Wars Encyclopedia, Vol. II, p. 317 ("Minnau, Teckla")