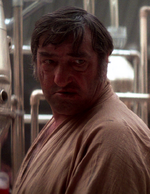 Ted Burnett (November 8, 1926 – October 1, 2001) was a British actor who portrayed the bartender Wuher in Star Wars: Episode IV A New Hope.[1] For his one line of dialouge - telling Luke Skywalker that his droids must wait outside the Cantina - his voice was dubbed over. Burnett's own, British-accented reading of the line can be heard in the rough cut Cantina sequence in the Star Wars: Behind the Magic CD-ROM.
Notes and references
Edit
External links
Edit
Ad blocker interference detected!
Wikia is a free-to-use site that makes money from advertising. We have a modified experience for viewers using ad blockers

Wikia is not accessible if you've made further modifications. Remove the custom ad blocker rule(s) and the page will load as expected.