Featured article
Talk

28
110,042pages on
this wiki
Template page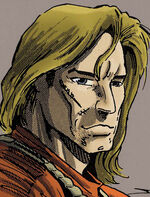 Stevan Makintay, also known as "Mak," was a Human male born on the planet of Hargeeva. The son of the world's High King, Makintay was raised in wealth and privilege. Despite his heritage, Lord Makintay, as he was known, held the view that all beings were equal. When the Galactic Empire annexed Hargeeva in 7 BBY, Makintay used the opportunity to attend the Imperial Academy and learn how to pilot starfighters. Upon his return, he fell in love with a lowborn commoner, Ketrian Altronel, and announced his intention to marry her. This action, along with his critical opposition of his father's oppression of the lower classes of Hargeevan society, led his father to disinherit Makintay. He also arranged for his son's kidnapping and incarceration at the Imperial penal colony on Garen IV. Makintay escaped with the aid of his friend, the Sullustan Merinda Niemeh, and the Alliance to Restore the Republic. Returning to Hargeeva, Makintay established a small Rebel cell on the planet. The movement snowballed, erupting into an uprising that was violently subjugated by Imperial forces under the command of Major Nial Pedrin. Makintay escaped Hargeeva, eventually joining the Alliance proper.
Makintay flew T-65 X-wing starfighters for the Alliance, and was stationed at Echo Base on the planet of Hoth as part of the fighter complement. During the evacuation of the base necessitated by its discovery by Imperial forces, Makintay was a member of Rogue Squadron, flying snowspeeders. Flying as Rogue Nine with his gunner, Barlon Hightower, the pair survived the battle and escaped Hoth. Makintay was transferred to Eyrie Base on the planet of Karatha, where he commanded Green Squadron. A shortage of supplies and critical parts for the Alliance forced Makintay to undergo a risky mission to Hargeeva to contact his former fiancée, Ketrian Altronel, and convince her to join the Alliance. Altronel, however, believed that Makintay had abandoned her for a life in space, unaware of his father's machinations. During their meeting, Imperial forces captured them, bounding them over for transport to the Imperial capital of Coruscant. During the transfer, the pair were rescued by friends of Makintay's from Eyrie Base. Altronel agreed to join the Alliance after discovering the truth about Makintay's disappearance and discovering that the Empire had killed her friend, Alikka Nolan.
However, Altronel had been intentionally
poisoned
with
Xebonica
during the intended trip to Coruscant, and was regularly being dosed with the
antidote
,
Trypanid
. Standard Imperial procedure for
Class A Security Risks
such as Altronel—whose
metallurgical
work had created a new
alloy
with impressive heat-absorption capabilities—was to poison them during transport from secure areas and keep the effects at bay to prevent them from defecting or becoming a liability as prisoners. Although the Alliance was aware of the treatment for such poisonings, the standard treatment was not working. Makintay and Merinda Niemeh
traveled back
to Hargeeva to capture Major Pedrin, who had infected Altronel in the first place, as they believed that she had been poisoned with a new compound only he could cure. While their mission was successful, upon their return to Eyrie Base Makintay discovered that Altronel's condition was not caused by Pedrin, but by a fellow Hargeevan,
Assistant Medic
Astina Griek
, who blamed Altronel's work for the deaths of her
husband
and
son
at the hands of the Empire. Makintay confronted Griek, who was also in possession of an antidote to cure Altronel. Subsequently, a struggle with Pedrin ensued as he sought to escape Alliance custody. Makintay was stabbed in the back, and Griek was killed by a
blaster
fired by Pedrin. The Major was then
stunned
and captured by Alliance forces, Altronel was cured with Griek's antidote, and Makintay recovered from his injuries.
(Read more…)