Temple of Eedit
Talk

0
103,574pages on
this wiki
Temple of Eedit
General information
Location
Usage
Era(s)
Affiliation
"The Jedi are in control of a vital outpost on the jungle planet of Devaron…a temple."
"A temple?"
"Do not be fooled, Savage. The Temple of Eedit serves only as a front for the military operations of the Republic. It is essential that we seize the temple if the Separatists ever hope to take control of that corner of the galaxy. You shall go to Devaron…and take what is rightfully ours."
―Count Dooku and Savage Opress
The Temple of Eedit, also known as the Eedit Temple, was a temple that was located on the jungle planet of Devaron. The temple had at least two towers similar to those of Coruscant's Jedi Temple. It was used as the Republic base for Devaron Space during the Clone Wars.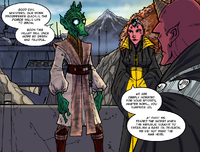 Construction of the Republic outpost was initially overseen by Jedi Master Bolla Ropal until a Separatist assault on the base. Later, around 21 BBY, Separatist forces invaded Devaron to destroy the temple. Though Jedi Master Halsey and his Padawan, Knox, alongside Clone Commander Trauma and his troops, defended the temple from the Separatist Droid Army, Count Dooku's new apprentice Savage Opress suddenly appeared in the midst of the battle and took out all Republic forces, including the two Jedi. At the end of battle, no clones, droids, or Jedi survived, only Opress.
The clone commando unit Delta Squad investigated the outpost and brought back the bodies of Halsey and Knox to the Jedi Temple.
Appearances
Edit