Terry Austin (born August 23, 1952) is a comic book illustrator, who has worked mostly as an inker and embellisher. Austin's early work in the industry included inking DC Comics' popular Batman series in the mid 1970s, but he would gain even more prominence when he moved to Marvel Comics in 1977 to work with penciller John Byrne on the Uncanny X-Men just as the series was starting to earn a place as the industry's top-selling comic book. He began working on the Marvel Star Wars series when writer Archie Goodwin and penciller Carmine Infantino started their run in 1978, but Austin would work on only five issues before leaving the title. Later he would work with Byrne on another landmark series when they collaborated on the revamped Superman title in 1986. Austin also wrote and inked the Dark Horse comic adaptation of Splinter of the Mind's Eye produced in 1995.
Star Wars bibliography
Edit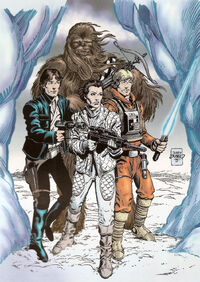 Cover artist
Edit
Ad blocker interference detected!
Wikia is a free-to-use site that makes money from advertising. We have a modified experience for viewers using ad blockers

Wikia is not accessible if you've made further modifications. Remove the custom ad blocker rule(s) and the page will load as expected.