Terryl Whitlatch is an accomplished scientifically and academically trained illustrator who extensively studied vertebrate zoology and animal anatomy. She has worked for various zoos and museums in the U.S. and The World Wildlife Fund as Senior Consultant for Wildlife Art and Animal Anatomy.
For over seven years, Terryl worked for Lucasfilm Ltd., Industrial Light & Magic, and George Lucas' JAK Films. She is considered the foremost creature designer in the world. Her unique combination of illustration skills and comprehensive knowledge of animal anatomy and movement are essential components in the design, anatomy, and physical animation aspects of creature creation.
While working on Star Wars: Episode I The Phantom Menace, she collaborated directly with George Lucas, for whom she designed countless creatures for the films and related products, including CD-ROMs. A collection of her work for Lucasfilm, The Wildlife of Star Wars: A Field Guide was published by Chronicle Books in 2001 to critical acclaim and popular success. Terryl also designed for many electronic and interactive games for leading publishers, including Steven's Spielberg's The Dig for LucasArts.
Terryl worked with many major studios and effects houses as a highly sought-after creature and concept designer. In addition to her work on Star Wars, her films include Jumanji I and II, The Indian in the Cupboard, Bear Country, Dragonheart and Polar Express.
Along with her continuing work on The Katurran Odyssey series, Terryl is designing fantasy animals for a traditional carousel to be built in her community.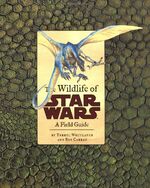 Bibliography
Edit
Terryl Whitlatch bio on katurranodyssey.com (content no longer available)
External links
Edit
Ad blocker interference detected!
Wikia is a free-to-use site that makes money from advertising. We have a modified experience for viewers using ad blockers

Wikia is not accessible if you've made further modifications. Remove the custom ad blocker rule(s) and the page will load as expected.