The Tessellated Arboreal binjinphant was a very rare and furry tree-dwelling marsupial.
Ingey was the binjinphant of Coby of Tammuz-an. He was kidnapped by Starhunter's Intergalactic Menagerie on Chuzalla.
Behind the scenes
Edit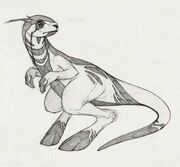 The Tessellated Arboreal binjinphant appeared in two episodes of the Star Wars Droids television series. The creature later received a mention in the online game Star Wars Galaxies, in a quest relating to the Holocron of Destiny.
Appearances
Edit
Ad blocker interference detected!
Wikia is a free-to-use site that makes money from advertising. We have a modified experience for viewers using ad blockers

Wikia is not accessible if you've made further modifications. Remove the custom ad blocker rule(s) and the page will load as expected.