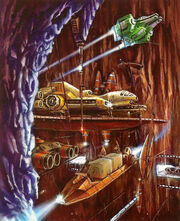 The Tethers was an area of the shadowport Point Nadir, located on the comet Resh 9376. It was a series of docking facilities located in the Fische's Cove close to the Jackrab Hole. The Tethers were the cheapest docking facilities available on the comet. However, transporting cargo from them to the living areas of the Point Nadir could be more expensive than paying the docking fee at The Slips, the expensive but well-accommodated docks at the end of the Cove. Additionally, Anjiliac clan was known to occasionally send thugs to collect additional fees from captains and crews that persistently docked in The Tethers in an attempt to get a free ride.
Ad blocker interference detected!
Wikia is a free-to-use site that makes money from advertising. We have a modified experience for viewers using ad blockers

Wikia is not accessible if you've made further modifications. Remove the custom ad blocker rule(s) and the page will load as expected.