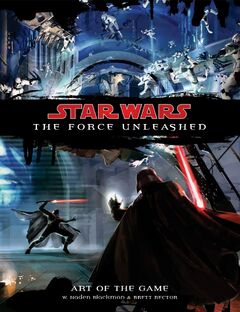 The Art and Making of Star Wars: The Force Unleashed is a book featuring the pre-production art of The Force Unleashed video game, released in August 2008. This behind-the-scenes book delves into the origins of the game concept, including discussions with George Lucas about the place of the game within the Star Wars canon and "outtake" game concepts and art, wrapping with chapters on the innovative technology that went into the game design. It contains a foreword by Hayden Christensen and is authored by Haden Blackman, the project lead, and Brett Rector, the assistant producer on the game development team. The book was originally titled Star Wars: The Force Unleashed: Art of the Game and was going to introduce a concept called The Council, which is based on an era 500 years after the death of Darth Vader, when the Sith and Jedi had formed an uneasy alliance. This concept was however, cut.
Notes and references
Edit
External links
Edit
Ad blocker interference detected!
Wikia is a free-to-use site that makes money from advertising. We have a modified experience for viewers using ad blockers

Wikia is not accessible if you've made further modifications. Remove the custom ad blocker rule(s) and the page will load as expected.