The Art of Ralph McQuarrie Artbox is a box set showcasing the concept designs of Star Wars artist Ralph McQuarrie. It was published by Chronicle Books in November 1996.
This artbox consists of:
48-page paperback
15 postcards
6 decorative stamps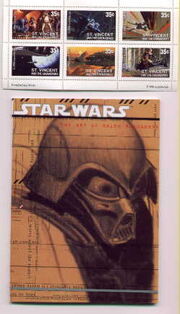 Publisher's summary
Edit
Star Wars wouldn't be Star Wars without the vision of Ralph McQuarrie, the man responsible for bringing color, depth, and motion to George Lucas's vision. McQuarrie is the artist who originates most of the designs for droids, ships, sets, aliens, and just about everything else in the Star Wars universe. This box set contains an interview with McQuarrie in a small, full-color booklet, along with 15 amazing postcards and 6 collectible postage stamps featuring concept paintings for the movies. Highlights are the great cantina scene, with Sy Snootles singing her heart (or hearts) out, the original Darth Vader concept sketch, and production paintings of C-3PO and R2-D2 and the epic lightsaber battle between Luke and Vader. A great gift for a Star Wars fan or collector.
External links
Edit
Ad blocker interference detected!
Wikia is a free-to-use site that makes money from advertising. We have a modified experience for viewers using ad blockers

Wikia is not accessible if you've made further modifications. Remove the custom ad blocker rule(s) and the page will load as expected.