The Art of Star Wars Episode V: The Empire Strikes Back is a book featuring art created during the production of Star Wars: Episode V The Empire Strikes Back.
Originally published in 1980 as The Art of The Empire Strikes Back, the book was reissued in 1994 with the expanded title, and updated in 1997 to include material from the Special Edition.
Publisher's summary
Edit
The Art of Star Wars: The Empire Strikes Back is a magnificent full-color celebration of the amazing artistic and technical accomplishments in the second chapter of the most spectacular space epic of all time. Lavishly illustrated with production sketches, production paintings, costume designs, construction drawings, matte paintings, storyboards and stills, and complete with biographies of the outstanding artists and technicians who created the film, The Art of Star Wars: The Empire Strikes Back is an indispensable volume for fans and special effects buffs alike.
This volume includes: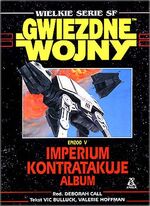 Bibliography
Edit
Ad blocker interference detected!
Wikia is a free-to-use site that makes money from advertising. We have a modified experience for viewers using ad blockers

Wikia is not accessible if you've made further modifications. Remove the custom ad blocker rule(s) and the page will load as expected.