The Bounty Hunters: Kenix Kil was the third and final issue in the Bounty Hunters series of comics, and was released on October 13, 1999 by Dark Horse Comics.
Publisher's summary
Edit
Kir Kanos, the last surviving member of the Emperor's Royal Guard, is the most wanted man in the galaxy. How do you hide when every bounty hunter in every system is on your trail? For Kanos, the answer is to disguise himself as one of the hunters. From Crimson Empire, the untold tale of how Kir Kanos became bounty hunter Kenix Kil!
Plot summary
Edit
Appearances
Edit
Characters
Droid models
Events
Locations
Organizations and titles
Sentient species
Vehicles and vessels
Weapons and technology
Miscellanea
Collections
Edit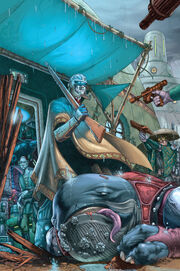 Ad blocker interference detected!
Wikia is a free-to-use site that makes money from advertising. We have a modified experience for viewers using ad blockers

Wikia is not accessible if you've made further modifications. Remove the custom ad blocker rule(s) and the page will load as expected.