The Clone Wars: Pirates... and Worse! is a Level 1 young readers book released on December 7 2009 and published by DK Publishing. The story was based on the The Clone Wars episode "Dooku Captured." The main characters were Hondo Ohnaka and his pirate gang.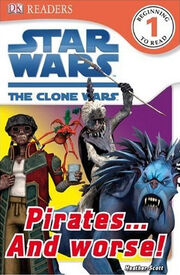 Notes and references
Edit
Ad blocker interference detected!
Wikia is a free-to-use site that makes money from advertising. We have a modified experience for viewers using ad blockers

Wikia is not accessible if you've made further modifications. Remove the custom ad blocker rule(s) and the page will load as expected.