The Complete Star Wars Trilogy Scrapbook
Talk

7
Share
The Complete Star Wars Trilogy Scrapbook is a guide to the Original trilogy. It was written by Mark Cotta Vaz as part of Scholastic's Star Wars Trilogy Scrapbook series.
Publisher's Summary
Edit
An Out of This World Guide to Star Wars, The Empire Strikes Back, and Return of the Jedi.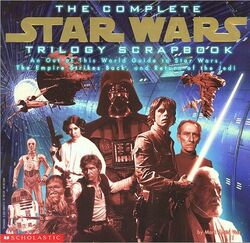 The Civil War
Edit
The Empire
Edit
Imperial Leaders
Grand Moff Wilhuff Tarkin
Fighting Ships and Stormtroopers
Arsenal of Destruction
The Second Death Star (Death Star II)
Death Star Shield Generator Bunker
Rebel Alliance
Edit
Rebel Leaders and Heroes
Fighting Ships
Han Solo's Blaster and Holster
Rebel Bases
Yavin Base
Main Rebel Briefing Room
Secrets of the Force
Edit
The Light Side
Edit
Jedi Justice
Ben (Obi-Wan) Kenobi
Jedi Philosophy
Jedi Training
The Dark Side
Edit
Evil Power
The Underworld
Knights of Darkness
The Helmet of Darth Vader
Wonders of the Galaxy
Edit
Planets and Places
Edit
Alien Life
Edit
Jabba's Palace
Edit
Creatures
Edit
Famous Battles
Edit
The Final Battle: Luke Skywalker vs. Darth Vader
Luke Defeats Darth Vader
Ad blocker interference detected!
Wikia is a free-to-use site that makes money from advertising. We have a modified experience for viewers using ad blockers

Wikia is not accessible if you've made further modifications. Remove the custom ad blocker rule(s) and the page will load as expected.