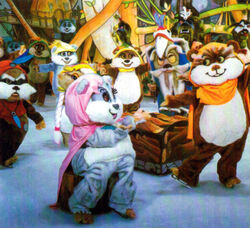 The Ewoks and the Magic Sunberries was a segment of a 1986 "ice show extraordinaire" entitled BRAND AMERICA: BOLD-BRIGHT-BEAUTIFUL, produced by Ice Capades, Inc. It was designed to bridge the intermission of the program. It was produced and directed by Robert Turk, written by Anne Snyder and featured costumes by Joseph A. Porro.[1]
The production was promoted as "A tale for kids, 3 to 93!" A printed program for the show included pictures of the performing Ewoks and Duloks, as well as a poem:
On the mystic moon of Endor,
Where enchanted forests grow,
There dwells a furry fellowship,
The Ewoks, don't you know!

The Ewoks live in giant trees,
They're busy all the day,
But around the bonfire every night,
They sing and dance and play!

The story teller is Logray,
An Ewok old and wise,
He now begins a classic tale
Of Life Beyond our skies.

You'll need a course in "Ewokese",
To help you understand
The glories and the triumphs
Of this hardy, happy clan!

Sit back, relax, enjoy yourself,
Bravo! You're on your way!
Presto! Chango! "Be-che-wa-wa",
You're an Ewok for the day!
A TV commercial for the show aired November 1, 1986 during the premiere or the Ewoks episode "The Season Scepter".[2]
Appearances
Edit
By type
| | | | | |
| --- | --- | --- | --- | --- |
| Characters | Creatures | Droid models | Events | Locations |
| Organizations and titles | Sentient species | Vehicles and vessels | Weapons and technology | Miscellanea |
Bibliography
Edit
Notes and references
Edit
External links
Edit
Ad blocker interference detected!
Wikia is a free-to-use site that makes money from advertising. We have a modified experience for viewers using ad blockers

Wikia is not accessible if you've made further modifications. Remove the custom ad blocker rule(s) and the page will load as expected.