The Han Solo Trilogy
Talk

0
117,474pages on
this wiki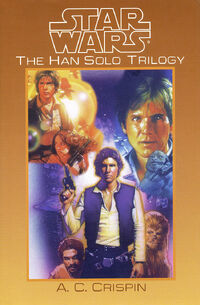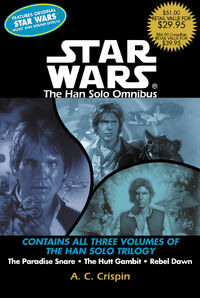 The Han Solo Trilogy, written by A. C. Crispin, covers much of Han Solo's life prior to the events of A New Hope. It spans from the year 10 BBY up until the moment Han is about to sit down with Obi-Wan Kenobi, Luke Skywalker, and Chewbacca in the Mos Eisley Cantina, during Star Wars: Episode IV A New Hope. It also provides some backstory from before 10 BBY.
This trilogy contains the books The Paradise Snare, The Hutt Gambit, and Rebel Dawn.
The three books were originally released individually. They were later rereleased together as a Sci-Fi Book Club edition by the title The Han Solo Trilogy and as an audiobook by the title The Han Solo Omnibus. The Sci-Fi Book Club edition is missing the epilogue of The Hutt Gambit. The audiobook release was read by David Pittu.
The Han Solo Trilogy should not be confused with The Han Solo Adventures written by Brian Daley. The three Daley novels actually take place during a gap in Rebel Dawn.