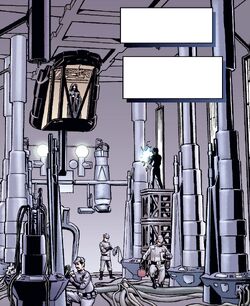 The Hub was a massive computer complex built by the Galactic Empire under Palpatine's orders to coordinate the Imperial Navy. It was decided it was too risky to be held on Coruscant, and so was constructed in Pyramid One on Ahakista. In 0 ABY Raze assembled a team under Wyl Tarson to destroy it; however the plot was foiled.
Appearances
Edit
Ad blocker interference detected!
Wikia is a free-to-use site that makes money from advertising. We have a modified experience for viewers using ad blockers

Wikia is not accessible if you've made further modifications. Remove the custom ad blocker rule(s) and the page will load as expected.