The Long Arm of the Hutt
Talk

0
103,468pages on
this wiki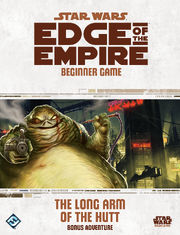 The Long Arm of the Hutt is an adventure for the Star Wars: Edge of the Empire roleplaying game, published for free online in December 14, 2012.
The included adventure in the Star Wars: Edge of the Empire Beginner Game is entitled "Escape From Mos Shuuta." Presuming that all goes well for the Hero Players, by the end of the adventure they will have - Spoiler alert! - escaped from the crime-ridden Tatooine spaceport of Mos Shuuta and are ready to embark on a galaxy-spanning adventure!
Even if the Hero Players have been successful in that adventure, that doesn't mean they've escaped their own shadowy pasts. After all, even in a galaxy as expansive as that in Star Wars, you carry your reputation (and your problems) with you wherever you go. Can the players escape the grasp of a ruthless and influential crime lord once and for all?
Appearances
Edit
Characters
Creatures
Droid models
Events
Locations
Organizations and titles
Sentient species
Vehicles and vessels
Weapons and technology
Miscellanea
External links
Edit