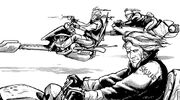 The Skulls was an infamous swoop gang known for its brutal and violent reputation. They menaced the Hook Nebula. Founded by Jeng Seth, they were particularly noted for their brutality and cruelty. The Skulls at times had problems with the Galactic Empire, the Rebel Alliance and several news agencies. The Skulls were known to deliberately turn their Swoop Bikes into crowds of civilians as a way to distract law enforcement or simply cause mayhem. They were rivals with the Knights.
Zekka Thyne was a member of the gang before joining the Black Sun criminal syndicate. The Skulls favored Nebulon-Q's.
Appearances
Edit
Ad blocker interference detected!
Wikia is a free-to-use site that makes money from advertising. We have a modified experience for viewers using ad blockers

Wikia is not accessible if you've made further modifications. Remove the custom ad blocker rule(s) and the page will load as expected.