The Star Trader is a store in Disneyland, that focuses on selling Star Wars and Star Tours merchandise, including souvenirs, clothing and toys -- many that are exclusive to Disney Parks. Located in the park's Tommorrowland, the store also sells Disney and science fiction themed merchandise, and its decor includes flying saucers, planets and stars. The exit of the Star Tours ride leads guests directly into The Star Trader.
The location was called The Character Shop before 1987, when it was renovated and renamed to coincide with the opening of the original Star Tours attraction. A full size X-wing fighter that originally hung from the ceiling was removed during subsequent renovations, but was returned just before the opening of the ride's sequel in 2011.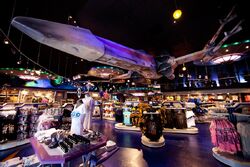 External links
Edit
Ad blocker interference detected!
Wikia is a free-to-use site that makes money from advertising. We have a modified experience for viewers using ad blockers

Wikia is not accessible if you've made further modifications. Remove the custom ad blocker rule(s) and the page will load as expected.