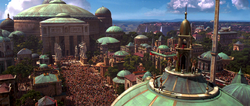 Famous composer Beezar Pert threw a charity concert on Naboo during the Clone Wars. Music Advisor and harpist Hela Brandes joined efforts with fellow musicians Bongiovi, Augara Jowil and Tofli Argala to persuade Pert to come out of retirement for a charity concert. The concert was held in the Theed Palace Plaza and sold out, with all profits being used to support children orphaned by the Clone Wars on both sides of the conflict.[1]
Notes and references
Edit
Ad blocker interference detected!
Wikia is a free-to-use site that makes money from advertising. We have a modified experience for viewers using ad blockers

Wikia is not accessible if you've made further modifications. Remove the custom ad blocker rule(s) and the page will load as expected.